PLACERVILLE- The Placerville Speedway is geared up to honor one of its all-time greatest legends in the 58-year history of the facility, with the annual "Tilford Tribute" this Saturday April 22nd. 
Divisions attacking the quarter-mile during the Tilford Tribute this weekend include the traveling Tri-State Pro Stock Series, the Anrak Ltd. Late Models, the Red Hawk Casino Pure Stocks, Mini Trucks and Vintage Hard Tops.
The event honors the late Donnie Tilford, a longtime Folsom resident and area contractor and one the most beloved stock car drivers in the history of Placerville Speedway. During his final years Tilford mentored, sponsored and wrenched for various drivers well past his retirement from driving in 1991. A former Placerville Super Stock champion, Tilford succumbed to heart complications, and passed away peacefully in his sleep at the age of 58 on March 18, 2014.
"This weekend's event will be a perfect way to honor one of Placerville Speedway's greatest legends," said track promoter Scott Russell. "We look forward to hosting the show while showcasing our Ltd. Late Models, Pure Stock and Mini Truck divisions, along with welcoming in the Tri-State Pro Stock Series for the only time this season. We hope everyone can make it out for what should be great night of racing at the Donnie Tilford Tribute."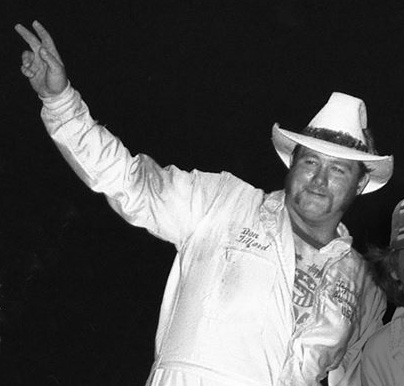 Tilford was known for his long-time residency in Folsom and for helping many other businesses transform from mere dirt into establishments in the area by means of his business, Tilford Excavating and Engineering that was based in the city. Racing his way to countless victories through the decades from tracks close to home like Placerville Speedway and as far away as Australia, Tilford put the city of Folsom on the auto racing map in his days behind the wheel.
Tilford's love was racing Stock Cars on the dirt. He began racing in 1971 at the age of 17 at Placerville Speedway and was a highly successful driver winning numerous open shows, main events and championships. He continues to be the all-time leader in Stock Car victories at the El Dorado County Fairgrounds quarter-mile, having claimed 71 checkered flags in the division.
Adult tickets for the Tilford Tribute on April 22nd cost $18, while seniors 62+, military and juniors 12-17 will be $16. Kids 6-11 cost $7 and those five and under are free. Purchase tickets online at https://www.eventsprout.com/event/ppr-2023 or at the gate on race day.
Grandstand seating is general admission this Saturday night, except for the reserved seats marked for season ticket holders. Pit passes can be purchased at the pit gate or on Pit Pay to take advantage of the expanded seating area on the hill.
The pit gate will open at noon, with the front gate opening at 3pm. Happy Hour is offered when the gates open until 6pm in the grandstands featuring live music along with discounted Coors Light and Coors Original at the beer booth.
For those who can't make it to the track, CaliDirt.TV will provide live flag-to-flag coverage of every Placerville Speedway point race this season. The live streaming service also includes each event with the Sprint Car Challenge Tour in 2023. Fans can purchase through a monthly membership or on a per race basis via https://calidirt.tv/
The Placerville Speedway is located on the beautiful El Dorado County Fairgrounds in Placerville, California. Take Hwy US-50 to Forni Road/Placerville Drive exit. Then go north on Placerville Drive to the Fairgrounds. The physical address is 100 Placerville Dr., Placerville, CA 95667. For more information on the Placerville Speedway log onto http://www.placervillespeedway.com
The quarter-mile clay oval is operated by Russell Motorsports Incorporated, which can be reached at the track business office at 530-344-7592. Contact Kami Arnold or Scott Russell directly for sponsorship opportunities at the office.
Join over 16,800 followers of Placerville Speedway on Facebook, where you can keep abreast of updates for the 2023 season. You can also find Placerville Speedway on Twitter by following us https://twitter.com/pvillespeedway – In addition, Placerville Speedway is also on Instagram. Please follow us @PvilleSpeedway.
Upcoming events at Placerville Speedway:

Saturday April 22: Tri-State Pro Stock Series, Anrak Ltd. Late Models, Red Hawk Casino Pure Stocks, Mini Trucks and Vintage Hard Tops | Tilford Tribute
Saturday April 29: Thompson's Dealerships Winged 360 Sprint Cars, Anrak Ltd. Late Models, Red Hawk Casino Pure Stocks and Mini TrucksSaturday May 6: Thompson's Dealerships Winged 360 Sprint Cars, USAC Western States Midgets, BCRA Wingless Lightning Sprints and Mini Trucks | First Responders Night