After breaking ground less than two months ago, Folsom's new Alder Creek Elementary School has risen from what was just mere dirt weeks ago to its framing stage as construction has been progressing swiftly.
Alder Creek Elementary School is the newest school to be constructed in the community of Folsom Ranch, often referred to as "South of the 50." With construction already underway, the new school is expected to be complete and ready for students by the summer of 2024.
Located at 4545 Old Ranch Way, Alder Creek Elementary School was designed by Rainforth Grau Architects and is the second elementary school to serve the rapidly growing area of Folsom. Mangini Ranch Elementary opened in 2021 for grades TK-5.
Once completed, the new facility will be similar in construction to like that of its neighboring Mangini Ranch Elementary. The facility consist of a one building structure that is 80,000 square feet in size and two stories. As of a site visit this week, a good amount of the framing is in place for the first story of the structure as construction is on schedule.
Once completed by this time next year, the school is forecast to host approximately 764 students ranging in grades TK-5, not including the future expansion options it has made accommodations for. The completed school will also house a sports field and several asphalt recreation and play areas, including basketball courts.
Construction of the facility is funded partially by a combination of Measure M Bond funds state funds, general obligation bonds and developer fees.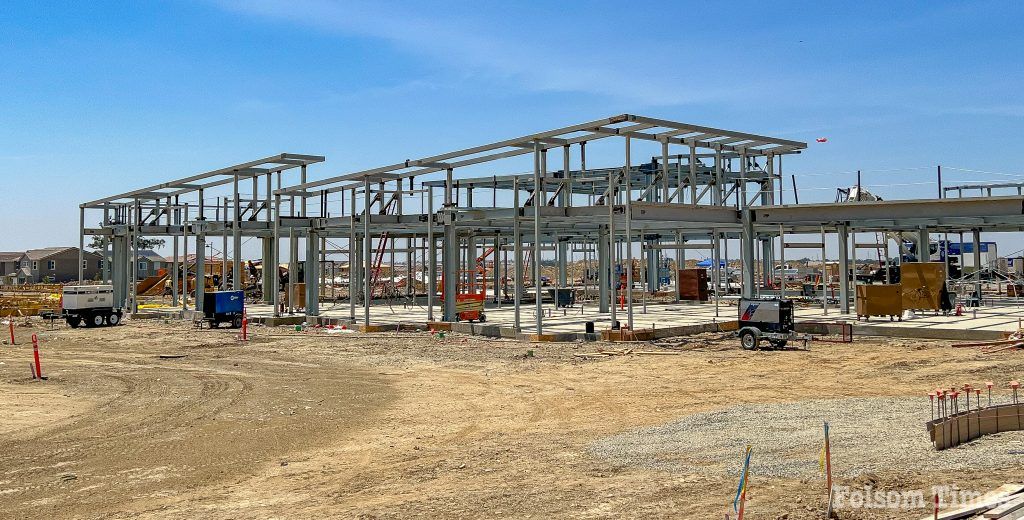 Alder Creek will not be the last to be planned and constructed in the south of 50 plan area of Folsom. By the time the Folsom Ranch Development is complete, the city will have several additional schools, including a third public high school and middle school and a total of five elementary schools.
All schools will be fully funded by state funds, general obligation bonds and developer fees. The Folsom Cordova Unified School District's current boundaries include the cities of Folsom and Rancho Cordova, both of which adjoin Highway 50. Folsom's population is approximately 82,000, similar to Rancho Cordova's population of approximately 81,000. 
The Folsom Cordova School district has been in discussions of pursuing the options of re-organizing into two-districts. The explore the possibility a feasibility study is needed that comes with a cost of approximately $70K. After FCUSD board members temporarily shelved the topic last month due to the cost, members of the Folsom City Council approved an agreement between the school district and the City of Rancho Cordova to share the costs by means of the two cities reimbursing the school district to one third of the cost each. At this time it is unknown when the district plans to begin the study for possibly splitting the district.