Hospital staff, leadership celebrate Cinders the therapy dog on National Dog Appreciation Day
The staff of Dignity Health Mercy Hospital in Folsom gathered Tuesday to honor one of its newest staff members and the one that has the "best hair," every day.
In celebration of National Dog Therapy Appreciation Day, the hospital's frontline workers, employees and hospital leadership gathered in the lobby of the local hospital for a special badge ceremony, honoring the hospital's beloved K-9 Therapy Dog companion, Cinders.
Cinders, an eight-month old female golden doodle, joined the Mercy Hospital of Folsom staff late last year as part of the Hearts 4 Heroes Paw Platoon Placement program
Since her arrival, Cinders has spent countless hours in training, familiarizing herself with the hospital and spreading joy to patients and staff members, which are the main focus of Cinder's purpose to the hospital.
Therapy dogs in the hospital environment are not a new thing, we have had them in the hospital before through various programs that are focused on patients," said Lisa Hausmann, president and chief executive officer of Mercy Hospital.
What is most unique about the Hearts 4 Heroes program is that it is designed to benefit the frontline works and first responders, that is new to us and it's a wonderful program. "
When it comes to first responders and frontline hospital workers, all of them are faced with stressful and often, traumatizing situations each and every day.
When most situations involve helping a person in pain or saving a life, it's inevitable they carry that stress with them back to their stations and home. Cinders is the first therapy dog to be placed in a hospital environment by Hearts 4 Heroes.
"Studies show that therapy dogs have a profound effect when it comes to lowering stress, anxiety and even lower blood pressure, added Hausmann. "At Dignity Health we are committed to providing resources to improve the overall health of our staff members and out patients. In a very short amount of time, Cinders has provided a great deal of support to our team."
Hausmann was joined in Tuesday's ceremony by Shelly Martell, Founder of Hearts for Heroes as they presented Cinders with an official Chief Therapy Dog Dignity Health badge.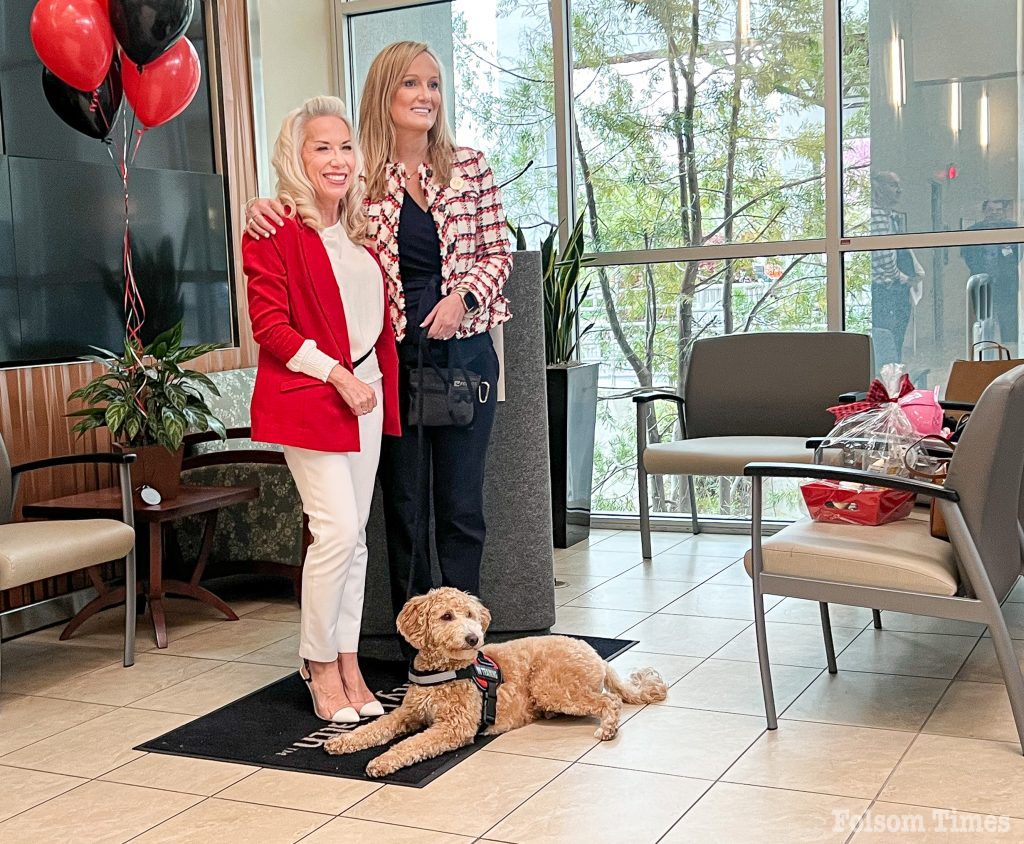 In addition to her official badge, Cinders was presented with a basket of play toys and goodies. Martell presented Hausmann with special gift. From there, Cinders led hospital staff and event guests on a walk through the facility.
"Adding a therapy dog to the hospital is just one of the innovative ways Mercy Hospital of Folsom is prioritizing employee wellness and mental health," said Haussmann.
Hearts 4 Heroes was founded by Bruce and Shelley Martell. The organization fully funds all aspects for the dogs and handlers at each station and hospital, with in-house on-site training and group training continued weekly and biweekly.
Their professional teams are committed to the wellness for the dogs and handlers at all times with open communication and training services.
"Our goal is to be placing 13 pups with these facilities over the next few years," explained Martell. "Our mission is to help front-line first responders' mental health and wellness. They all have been through so much, it's crazy and tremendously taxing on them."
To learn more about the Hearts 4 Heroes program or to donate and more, visit its website at www.hearts4heroesusa.org.