Red Hawk Casino Resort is home to two nights of live music Friday and Saturday night, just in time to get your Labor Day weekend fun started. Friday night, the local casino will host one of the region's rising country stars who actually enjoyed some of of his early beginnings on the Red Hawk Stage as Chad Bushnell is set to perform.
Back when he was attending Chico State University and transitioning from rodeo competition the local music scene, Bushnell played a number of nights on the Red Hawk stage. This marks his return to the venue since it has expanded into a first class hotel and entertainment center with the addition of The Apex earlier this year.
ABOUT THE ARTIST:
According to his professional bio, if there was a true authentic spirit to cross the threshold of Country Music with Christian standards, it would be Bushnell. His roots date back down his family lineage the past 4 generations made of cowboys and singers, some of which shared the stage with the late Bob Hope. Bushnell exudes the Americana spirit wrapped up into his lyrics and melodies. Mostly inspired as a child growing up singing in church and constant inspiration from his great grandmother, his Christian Country roots run deep.
Bushnell continues to contribute to the western ranch world working closely with fellow Ranchers alongside his father, mother and sister Chelsey Bushnell (who is an accomplished roper and rodeo athlete) maintaining livestock while writing country songs. He has opened for Dwight Yoakam, Kris Kristofferson, Neil McCoy, Billy Currington, Mark Wills, Collin Raye, Mark Chesnutt, Jerrod Neimann, Exile and many others over the years. While Chad isn't touring and opening for current country stars such as Lee Brice, Aaron Watson and Scotty McCreery, he's tucked away with his wife in the rolling, western hills of Red Bluff, California.
​
Bushnell's single "What Would Jesus Do" hit #1 on the Christian Country Music charts in December 2018 right by George Strait and Lauren Alaina. He went on to have two more #1 Christian Country songs including "That Ain't My Church" and Thank God". His EP titled "What They Ain't Tellin' Us" was produced at Hag Studio by Ace Otten. It features Merle Haggard's son Ben Haggard on guitar and backing vocals and members of the Strangers. Most recently, Chad has worked with legendary singer/songwriter Dave Gibson who produced and co-wrote most songs for his latest EP titled "Baby I Love You". He recently finished an album titled "Whiskey to Work" that was produced by Nate Coon (drummer for Aaron Watson) and Derek Hames (owner of Edgewater Studios). Three singles have already been released off of the full album that will officially release March 24, 2023.

Bushnell has participated in a number of contests such as the American Country Star contest in Nashville where he became a top 3 finalist and won the Horizon award for 2014. He was the 1st place winner of the Inspirational Country Showdown in Yuba City, CA. for 2018 and won New Artist of the Year for 2019 at the Inspirational Country Music Awards. He was Contemporary Country Vocalist of the Year at the Josie Music Awards for 2020 and was nominated by Country Evolution as an Artist to Watch in 2023. He recently celebrated the premiere of his first documentary on KIXE PBS titled "North State Roots". You may have also caught a glimpse of Chad on TV shows such as The 700 Club and Universal Huntress.
In Bushnell's younger years he competed in rodeo as both a steer wrestler and team roper and was active in many other sports. He is an accomplished farrier and is a graduate of Chico State University with a bachelor's degree in Business Marketing. Bushnell returns to the Red Hawk Stage tonight from 10 p.m. until 2 a.m.
On Saturday night, the Hill Street Band is set to bring their classic rock and top 40's show to the stage bar.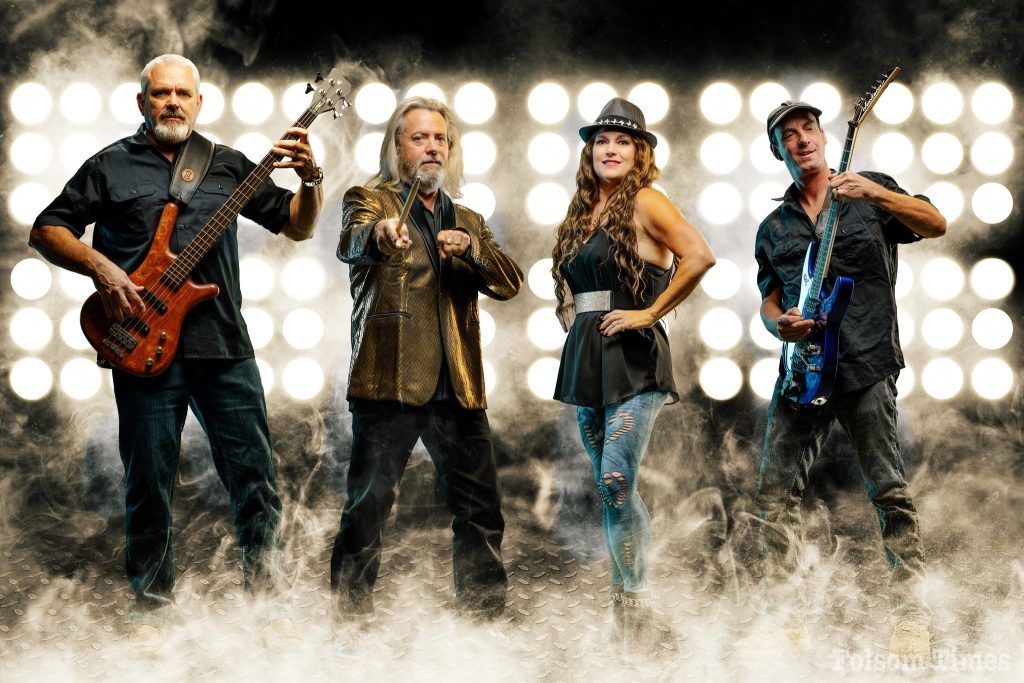 Hill Street has been playing classic rock favorites live in the North State for over 10 years. Hill Street also writes and has released their first album "Up Hill Both Ways."
According to their bio, is a dynamic four-piece cover group that loves the live rock genre. Foreigner, Toto, Santana, Elle King, No Doubt are some of their favorites. Hill Street strives to play every cover song as close to the artist as possible.
Entertainment starts at 10 p.m. and goes until 2 a.m. on Saturday night as well There is no cover charge for the events at Red Hawk Casino's stage bar.
Red Hawk offers much more than music to entertain all ages
Evening live music isn't the only entertainment at Red Hawk Casino. The Apex, a state-of-the-art entertainment center is has everything you need for a fun-filled day out with friends and family. Feel the thrill and excitement of wheel-to-wheel racing at top speeds, your adrenaline pumping with each lap, as you get closer to the finish line on the state of the art go kart track at The Apex.
The Apex also offers an 18-lane interactive bowling experience with comfortable couches, state-of-the-art scoring, and a fun and friendly staff. Whether you're looking to go bowling or have a party with us, you will enjoy our first-class bowling experience.
Live golf combined with air conditioning? The Apex has you covered with a state of the art golf simulator. Sharpen your competitive edge while playing the world's most renowned courses, solo or with friends and family of all ages. You'll be amazed at the realism in their four golf simulator bays, including tilted footing for sidehill stances, more challenging swings for lies in the sand or rough, and real-feel putting.
The Apex at Red Hawk also offers the most epic Virtual Reality game studio in the area. Blur the lines between reality and illusion with a VR experience. Test your skills in a single player game, or join a group in the virtual arena. Escape the physical and get immersed in the world of virtual reality.
There's something for everyone at The Apex and when you need a break, the Apex Grill and bar has you covered with delicious food and refreshing drinks.
Don't want to drive home? Red Hawk Casino now offer you the opportunity to indulge in the all new 156 room hotel, where a world of refined luxury and exceptional comfort awaits you. The recently opened hotel boasts a collection of spacious accommodations designed to cater to your every desire. From the inviting deluxe rooms, offering 440 square feet of elegance, to the opulent premium suites spanning 900 square feet, all connected and just a short indoor walk to enjoy the casino or The Apex
For more details CLICK HERE.