A big night is ahead at Folsom 's Harris Center on May 19, bringing up and coming artists, together with talents of established singer songwriters that have found success both locally and as far away as Nashville. It's a double billing that is sure to entertain, kicking off with Project Heartbeat Youth Poetry in Song and concluding with a Storytellers Evening.
Presented by local non-profit Wildwood Performing Arts Foundation, Project Heartbeat is a poetry contest for students throughout the local community ranging from grades 3-12. 
Recently, students submitted their own poems to the project, all of which were based on the theme of, "hope, friendship and courage." The project is a collaboration between local schools, education arenas, educators, parents and musicians.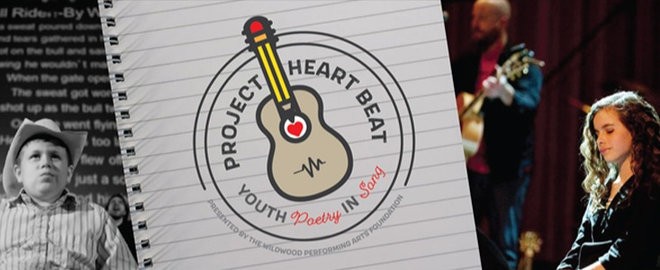 Winners from each grade level were chosen and their writings will be submitted to a team of local musicians and songwriters who will then, write songs based on and using lyrics from the young writer's poems. When the doors open at 6:00 p.m. on May 19, these talented songwriters and musicians will be performing the newly written songs to the public, as well as to the students who wrote the original poems for the very first time.
"We want children to have a voice in all sorts of ways – a platform to try anything and everything that they want to do. I wanted to be a professional ballet dancer, and a musical theatre performer, and a choreographer, and a director. And then teach dance. And then I wanted to play and sing music, and produce concerts," said Sunny Mitchell, founder and executive director of Wildwood Performing Arts Foundation. 
"I've been blessed to do just about everything that I've wanted to do so far in my life, and I want to be able to provide those same opportunities to youth in our community." It's also worth noting that Kevin Marcy wrote one of the first Project Heart Beat songs in 2021 and he loved that song enough to add it to his set list in many public shows since its debut that spring.'
The winning students whose poems have been chosen are listed below. Some of the known songwriters and musicians participating in this year's Project Heartbeat include Katie Fry, Aaron Gayden, Kevin Marcy, Cynthia Renee, Jeff Brzozowski, Billy J. Walsh and more who will perform with fellow musicians on stage including Giorgi Khokhobashvili on violin, Matt Dudman on bass, with additional vocals by Sunny Mitchell.
In addition to the professional songwriters, winners of the of the 2022 Battle of the Bands, Average Royalty, and runner- up, Zoe Carpenter, were invited to create new songs for Project Heart Beat.
Along with hearing their writings transformed into song for the first time, students at the concert will be honored with a variety of different awards such as instruments, vocal lessons, guitar and piano lessons, music education, gift certificates to local restaurants, retailers and more will be awards, all donated by business owners across the community.
The doors open for the Project Heartbeat portion of the program at 6 p.m. on May 19 and that is just the beginning of the special evening. At 7:30 p.m. the stage will transform into A Storytellers Evening.
A Storytellers Evening will bring all of the artists and musicians that participated in Project Heartbeat and more to the stage as they take turns sharing stories of songwriting, inspiring stories and how they found their voice in an intimate and informal evening on the Harris Center Stage.
Those looking to attend the Project Heartbeat portion of the evening, tickets are general admission and available HERE. Those looking to enjoy the Storytellers Evening, tickets can be purchased HERE.
For any additional information on the two shows and seating availability, just visit the events section of www.harriscenter.net.
Students who's submitted poems were the winning selections for Project Heartbeat:
EMPIRE OAKS ELEMENTARY:
Jasmine, 3rd grade
Kelsey, 4th grade
Dylan, 5th grade
FOLSOM CORDOVA COMMUNITY CHARTER:
Lizzy, 3rd grade
Briar, 5th grade
Mahalia, 6th grade
Raine, 7th grade
JOHN ADAMS ACADEMY
El Dorado Hills
Nora, 3rd grade
Colin, 7th grade
Nathan, 8th grade
Drake
Bryson
Lincoln
Jaynie, 5th grade
Online
Arnold, 5th grade
RISING SUN MONTESSORI, EDH
Kacper, 6th grade
THEODORE JUDAH ELEMENTARY
Ira, 3rd grade
Keya, 4th grade
Wrehannah, 5th grade