Multi-phase project kicks off with collaborative efforts by Rotary, FOLFAN and State Parks
Areas of Black Miners Bar State Park were bustling with activity Friday morning as the Rotary Club of Folsom commenced its newly formed partnership with local non-profit Friends of Lakes Folsom and Natoma (FOLFAN) and California State Parks by breaking ground on Phase one of what will be a multi-year project to enhance the park.
The collaborative efforts are focused on developing a native plant nursery and interpretive gardens at in the Black Miners Bar Folsom Lake State Recreation Area.
"Rotary has over 1.4 million members worldwide who strive to make communities better," said Folsom Rotarian Justin Raithel. "The Rotary Club of Folsom is excited to enter into this multi-year partnership which will make a lasting impact on the environmental health of Lakes Folsom and Natoma.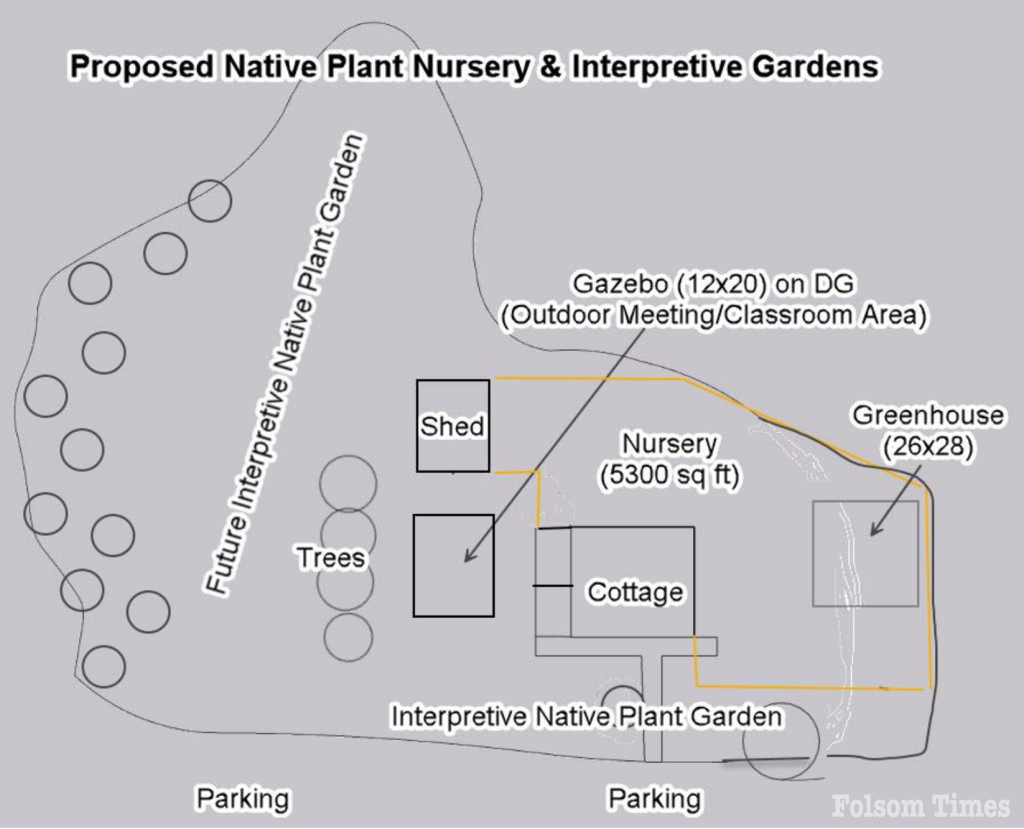 Both the nursery and the interpretive gardens will be located in a secluded area the park that is home to a ranger's residence on site. The long-standing cottage is being re-purposed and renovated by FOLFAN and state parks to serve as the project's office space with space for meetings, small educational functions, and storage.
The forthcoming nursery will be located on both sides of the cottage, totally approximately 5,000which 5,000 square feet of nursery and greenhouse space. Remaining space will be utilized for an interpretive native plant garden, a component of the project that will be constructed in phases over the next five years, leaving room for future growth beyond that period as well, according to the project's documented plans.
According to the project plans, the primary purpose of the project will be to grow native plants to help meet the state park's needs for eco-restoration projects while educating the public, including youth and adults, on the importance of native plants and helping facilitate more eco-restoration projects in the park and community.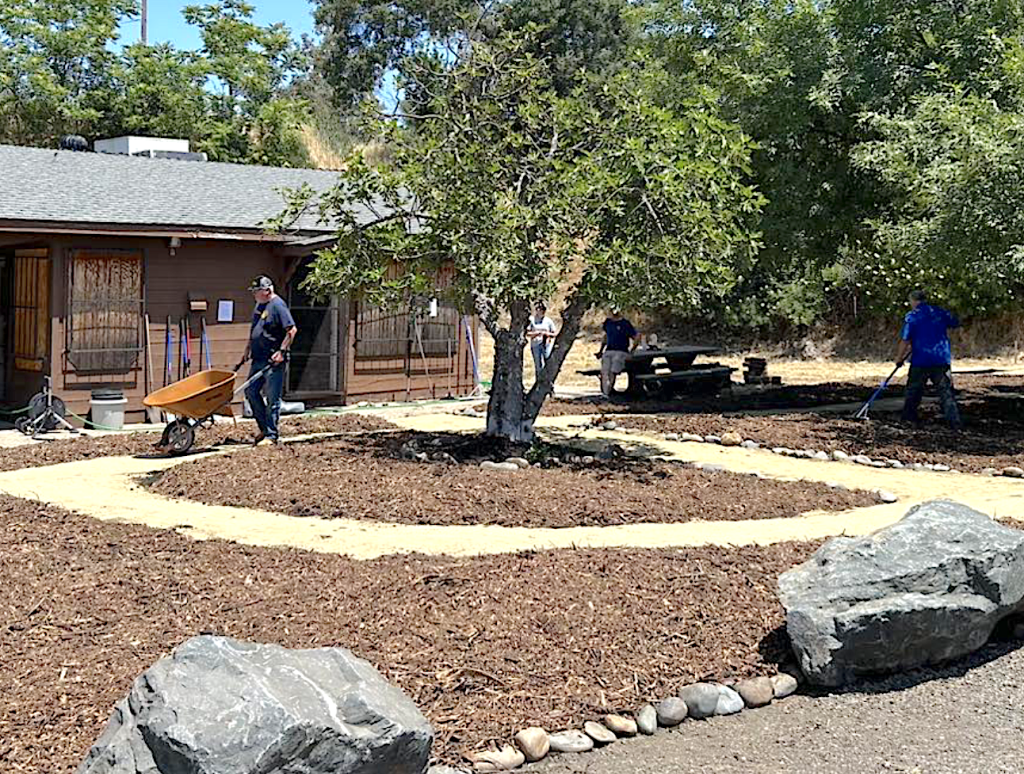 To complete the desired phases of the project through 2023, it was determined that an estimated total of $27,000 was needed in funding. FOLFAN and its donors are investing $10,000 into the renovation of the cottage and a a California State Parks Foundation grant was received in that same amount. Folsom Rotary was asked to fund $17,000 and provide volunteer support, all of which come in force on Friday.
Armed with shovels, rakes, wheel barrows and other devices used for destruction and reconstruction, Rotarians began doing what they do best Friday as they dug in, literally, to kick start the project in the form of sheet mulching an area of the future gardens, a process that involves cutting the vegetation as low as possible, covering it with decomposable material and another layer of compost and mulch. The volunteers also laid a new garden path using decomposed granite.
Actual planting in the area is set to begin in the fall as one of the many stages of development that are scheduled to take place this first year. According to the project plans, those various stages are as follows:
Land Improvement, including nursery footprint cleared and leveled (state parks contribution)
Acquire/develop landscape material, including gravel, dg, potting soil, sand, mulch
Install chain link fence with barbed wire top and three gates
Acquire and install a 26'x28' commercial quality greenhouse kit, including fan
Acquire aluminet shade cloth (for summertime use)
Acquire and install a water tank, a rainwater collection system, and a pvc-based watering system
Acquire material and build nursery tables with wire tops and cement blocks for legs
Acquire garden transport equipment, including carts and wheelbarrows
Acquire nursery hand and power tools
Acquire nursery supplies, including fertilepot pots and strips, starter plugs, germination station
Acquire and install a 12'x20′ gazebo kit with a galvanized steel roof
Collect seeds and cuttings of priority plants and propagate
In the years following 2023, additional plans will include:
Complete phases 1-5 of the interpretive gardens (one phase each year)
Grow and maintain nursery and greenhouse plants from prior year
Collect seeds and cuttings of priority plants and propagate for next year
FOLFAN, Rotary and State Parks hope to attract other organizations and groups to get involved with the project ahead. Ideal partners would include educational institutions, such as those within UC Davis or other such schools in the region that would have an interest to actively become involved. FOLFAN also is envisioning a program that would introduce youth in various age groups to the world of native plants and gardens.