For the sixth consecutive running of the NAPA Auto Parts 150 presented by Berco Redwood, race fans at All American Speedway powered by Roseville Toyota were witness to a first-time ARCA Menards Series West winner as Texan Kaden Honeycutt prevailed on Saturday night. Honeycutt held off points leader Sean Hingorani of Newport Beach, Calif. for the nationally-televised win as part of the 69th championship night at the one-third mile speedway.
 
Six NASCAR track championships were also decided including Dylan Zampa wrapping up the JM Environmental Wild West Super Series crown and Tyler Wentworth in the Velocity Solar Modifieds.
 
"That was tough at the end and I knew Sean was going to give me a run for my money. I just really appreciate him racing me clean at the end," Honeycutt said. "I was just free in and I was just burning the right rear off of it. I'm here to win and this is what I want to do every week."
 
Las Vegas' Tyler Reif earned the General Tire pole award but was passed by Honeycutt quickly at the beginning of the race. Las Vegas' Tanner Reif then passed his younger brother for second in the No. 16 NAPA Auto Parts Chevrolet for Bill McAnally Racing.
 
Hingorani steadily advanced through the pack, muscling past Tyler Reif for third on lap 59 with Madera's Joey Iest following Hingorani to take fourth.
 
Tanner Reif challenged Honeycutt on the inside on lap 93 but Honeycutt fended him off. Reif then fell into a battle for second with Hingorani.
 
Hingorani climbed into second with less than 50 to go and turned his attention to Honeycutt. Reif and Hingorani went back-and-forth again with 30 laps remaining in a long duel for the second position.
 
Hingorani had second position in hand and a shot at the leader with ten laps remaining. Honeycutt remained steadfast at the point, successfully defending the lead to win the NAPA Auto Parts 150. Hingorani settled for second followed by Tanner Reif, Iest, and Aromas' Todd Souza.
 
2020 All American Speedway Late Model champion Cole Moore of Granite Bay closed the 2023 JM Environmental Wild West Super Series season with his second win of the year, winning the 75-lap Super Late Model feature. Incoming second in points Eric Schmidt of Roseville led qualifying but the 2007 track champion suffered a hard contact into turn three with seven laps remaining.
 
Napa's Dylan Zampa used the restart to challenge Moore for the lead on the inside line. Cole Moore held him off for the victory followed Zampa, John Moore, Kenna Mitchell of Loomis, and Schmidt. Dylan Zampa added a 2023 JM Environmental Wild West Super Series title with two wins and three runner-up finishes to the 2022 Berco Redwood Pro Late Model championship for a strong two-year stint in Roseville.
 
"This one means a lot. Winning two championships back-to-back is pretty amazing and shows that our team never gives up," Zampa said.
 
Roseville's Tyler Wentworth won his fifth NASCAR Velocity Solar Modified feature of the year and the 2023 track championship as well after 30-laps of racing. North Highlands' Rick Andersen was the top qualifier in preliminary action.
 
Wentworth started on the outside of former track champion Nick Lyons of Loomis but drove around him quickly to lead the way. Lyons settled for second over Andersen. Luke Kaper finished a strong fourth followed by Lincoln's Cody Rickard.
 
Roseville's Josh Whitfield wrapped up a championship season in the NASCAR Berco Redwood Pro Late Models by winning the 35-lap feature. Whitfield was competing in his first full season of Late Model competition since 2007. Incoming second in points Trey Daniels of Fort Bragg, the 2022 Jr. Late Model champion, led time trials over one of the most competitive Pro Late Model turnouts of the season in Roseville.
 
Thomas Martin of Auburn made his first start of the season alongside Whitfield at the green flag. Martin and Daniels drove past Whitfield at the start. 2020 Jr. Late Model champion Aidan Daniels drove his sister Kylie's Pro Late Model and challenged Whitfield for third before the race's first caution flew on lap 16.
 
On the restart, Whitfield followed Martin on the bottom line to move into second. Whitfield then drove inside Martin in turn three to take the lead on lap 24. Trey Daniels and Ripon's Henk Gaalswyk, Jr. then collided in turn two to bring out the yellow. Whitfield led the rest of the way ahead of Martin, Aidan Daniels, Martinez' Vito Cancilla, and Trey Daniels.
 
Whitfield also finished off back-to-back championships in the NAPA Riebes Auto Parts Super Stocks but for the first time in over a year, he was not the feature winner on Saturday night.
 
He started the 25-lap race on the pole over a 13-car field of Super Stocks. Mickey Owens made his return to the track after several seasons away and briefly ran with Whitfield before the lead grew for the champion. A caution flag on lap 20 between Terry Thomas, Jr. of Antelope and Mario Davis spiced up the finish, however.
 
Owens muscled past Whitfield on the final lap in turns one and two. Whitfield attempted a cross over on the front stretch but Owens prevailed by just a nose in a thriller. Tim Walters of Dixon finished third to complete second in the championship. Phil Wilkins of Roseville finished fourth with Eric Bosckberger of Lincoln in fifth.
 
The F4 division was the most closely matched championship all year long for Roseville's largest division and Saturday's 25-lap season finale had plenty of excitement. Elverta's Jeremy Pruitt led the first two circuits before Mario Novelli was able to take command of the race.
 
Novelli held off past champion Ray Molina of Roseville as they darted in and out of lapped traffic. Novelli came to the checkered flag for what would be his third main event win of the season. But Novelli drove underneath the 16.5 second breakout rule on the final lap, being relegated to the tail end of the lead lap as a result. Molina inherited the win and Matthew Fuhs won the championship. Vic Theberge of Citrus Heights finished the main event in second with Fuhs third. Pruitt and Dan Cherry of Citrus Heights rounded out the top-five.
 
Vito Cancilla became the youngest Late Model champion in Roseville track history, just one day before his 12th birthday, winning the season finale of the AAMCO of Auburn Jr. Late Models. The 25-lap event had its largest field of the season with drivers from all over the West Coast competing.
 
Lincoln's Brody Manning made his first Roseville Late Model start after a season of racing in Las Vegas. Cancilla took over the lead from Manning with just four laps remaining. Cancilla topped Manning for his fourth win of the season. Phoenix's Jeffrey Erickson finished third followed by Lincoln's Kylie Glick and Bella Thomsen of El Dorado Hills.
 
All American Speedway will host the most Monster Trucks in track history on Saturday October 21 in the A-All Mini Storage Monster Truck Bash! Two shows will be held with an afternoon show and a nightcap. F4s will also be competing during the event. Tickets and info at www.AllAmericanSpeedway.com
 
All American Speedway wants to thank @the Grounds for their support along with partners such as Roseville Toyota, Berco Redwood, NAPA Riebes Auto Parts, JM Environmental, Velocity Solar, Sinister Diesel, AAMCO Transmission & Total Car Care of Auburn, CA, A-All Mini Storage, Auto Gator, Pape Machinery, Atlas Disposal, Kim White Realtor, All Street Sweeping, Roseville Moose Lodge, and Folsom Lake Asphalt for their strong support of All American Speedway. Without competitor support and local community partners, these events would not take place. All American Speedway mandates a sound regulation for all competitors as specified in the track rule book.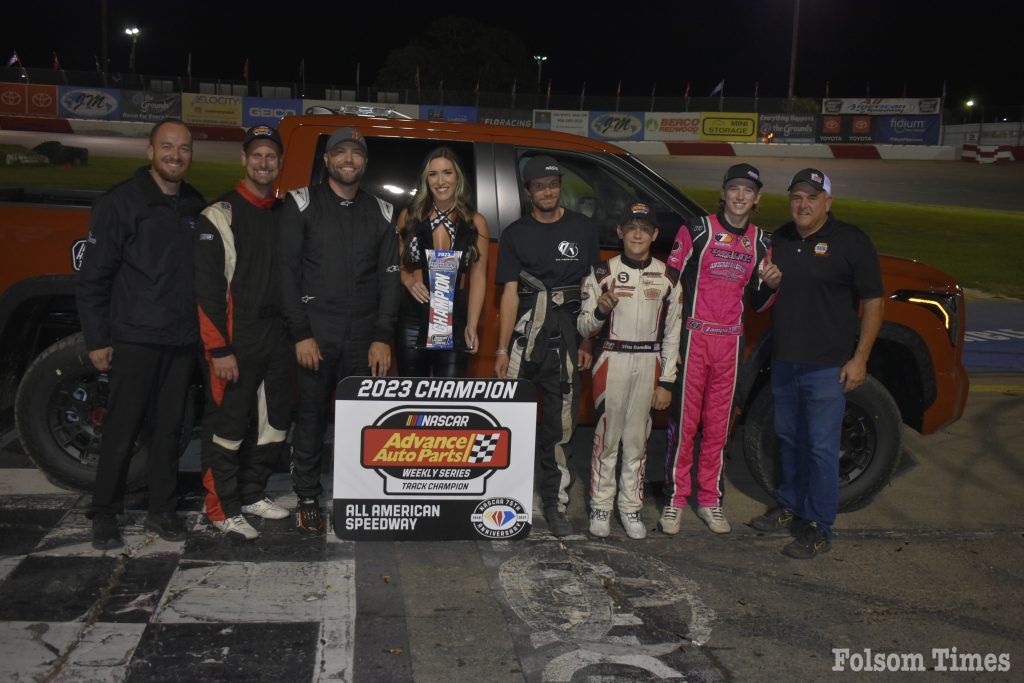 Photos by Don Thompson and Diego Alvarado.