One-hundred laps. It's a daunting task in a midget any way you slice it.
For one, it's imperative to ensure you can make it the distance, not only mechanically but physically and mentally as well.
It's challenging, but this is why racers do what they do. To face off against tasks most ordinary individuals wouldn't dare take on and to defeat their peers in competition.
That's what we'll be witnessing for two straight nights with the fourth running of Hangtown 100, promoted by Matt Wood Racing, at California's 1/4-mile Placerville Speedway featuring the USAC NOS Energy Drink Midget National Championship on November 17-18, 2023.
Here's six of the many storylines we're watching at this year's edition of the one and only 100-lap USAC Midget race of the season.
Local NASCAR star Kyle Larson returns to Hangtown
Placerville Speedway is the home to some of Kyle Larson's most cherished racing moments. It's the place he made his first sprint car start. It's the place he won his first sprint car race. It's the place he describes as his "home track."
Now, for the first time in 2023, Larson (pictured above) will be making his first USAC National Midget appearance of the year for the running of the Hangtown 100.
He will forever be known as the first ever winner of the Hangtown 100, capturing the inaugural running of the event back in 2019 after starting 10th, then won a Hangtown prelim in 2021 after charging from the seventh spot.
Larson, the 2022 NASCAR Cup Series champion, is a frequent hard charger at the Hangtown 100, driving from 23rd to fourth on night one in 2019 and 12th to sixth in the 2021 opener.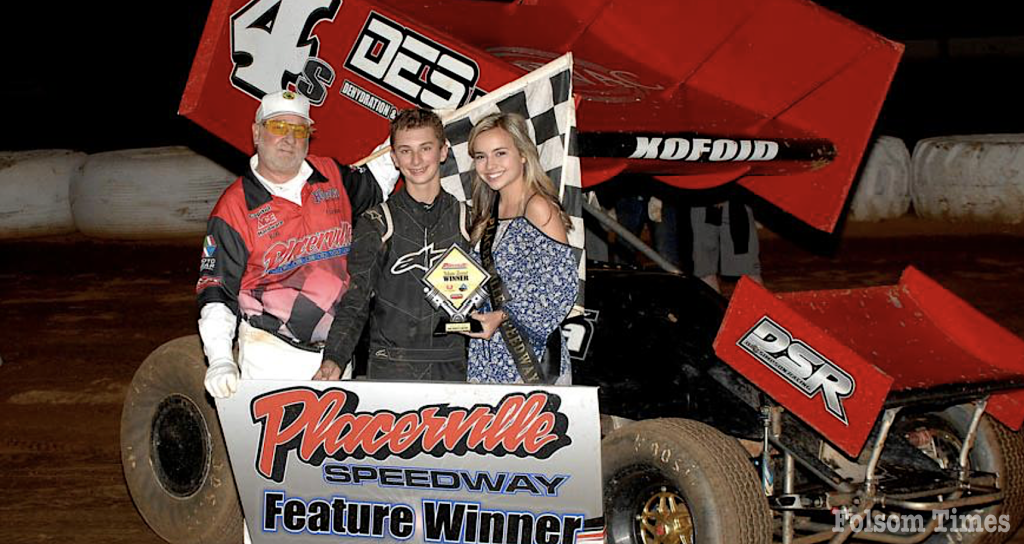 Kofoid eyeing rare back to back 100 lap wins
No driver has won consecutive 100-lap USAC National Midget features since Sam Isenhower on the indoor concrete, coke syrup-infused surface of Fort Wayne's Memorial Coliseum in 1988.
No driver has won consecutive 100-lap USAC National Midget features on dirt since Ron Shuman in 1982 at the Terre Haute Action Track's Hut 100 and Ascot Park's Turkey Night Grand Prix.
Buddy Kofoid (Penngrove, Calif.) intends to change that in 2023 at Placerville where he comes in as the defending Hangtown 100 winner. In fact, he's won his past two USAC Midget starts at Placerville, scoring the night two prelim and the finale in 2022.
Kofoid, the 2021-22 USAC National Midget champion, will also try to maintain Keith Kunz/Curb-Agajanian Motorsports' stranglehold of the Hangtown 100 after having swept all three nights of the event in 2022 with driver Tanner Carrick also taking the opener.
Already a winner at Placerville this season, Kofoid grabbed a World of Outlaws NOS Energy Drink Sprint Car triumph there in September's 49er Gold Rush Classic.
Winning a piece of the Placerville Pie
Speaking of drivers who've already achieved winning performances at Placerville this year in other disciplines, there's quite an array of drivers in that category.
Carrick (Lincoln, Calif.) gave Keith Kunz Motorsports his 134th USAC National Midget victory during last year's Hangtown 100 opening night prelim, making KKM the winningest team in series history.
Carrick has been a regular in winged 360 Sprint Car competition this year at Placerville, scoring a feature win in July while finishing eighth in the standings. Carrick, a two-time USAC National Midget winner, will be aboard the No. 98 midget for KKM at Placerville and also the two nights at Mered (Calif.) Speedway on November 21-22.
Shane Golobic (Fremont, Calif.) will drive for car owner and Hangtown 100 promoter Matt Wood in the event. Golobic won the World of Outlaws stop at Placerville in 2019 and scored a 360 win of his own this past August. The 2017 USAC Indiana Midget Week champion will be vying for his first USAC National Midget feature win since 2016.
Furthermore, Michael Faccinto (Hanford, Calif.) is the 360 Sprint Car track champ at Placerville in 2023, having won one main event. The two-time USAC Western States Midget titlist will pilot a midget out of the Graunstadt Enterprises/Matt Streeter Racing stable and also bagged a USAC WSM victory at Placerville in 2022. Jake Andreotti (Castro Valley, Calif.) and newly crowned USAC WSM champ Brody Fuson (Bakersfield, Calif.) have also been victorious with the USAC WSM series at Placerville of late with Andreotti scoring in 2022 and Fuson this past July.
Hanging 10 at Hangtown
The Hangtown 100 of 2021 was a banner weekend for both Justin Grant and Ryan Timms, and between the two drivers, they own five USAC National Midget victories in 2023 and reside inside the top-four of the series standings.
Grant (Ione, Calif.) raced past Buddy Kofoid with 14 laps to go to win the Hangtown 100 finale that year at the place he described as the place "where I grew up; this is where I fell in love with racing; this is the place where I decided I wanted to be a racecar driver."
Timms (Oklahoma City, Okla.), at just 15 years, 3 months and 12 days old, made history on night one of the Hangtown 10 to become the youngest feature winner in the history of USAC National Midget racing, a record that stands to this day.
Grant's been on a hot streak of late, having won two of the last three after going winless with the series until late September. Timms, meanwhile, wants to finish strong driving for the same team and car number that has won each of the past two Hangtown 100 features with Kofoid in the seat in 2021.
Straight to the point
The Hangtown 100 format is a bit different than the norm with the accumulation of points playing a role front and center on the stage throughout the two nights of the event.
Points will be earned via finishing position and number of positions advanced throughout each night, which will not only seed the starting lineups, but also will pay off in the end. The driver accruing the most points throughout the Hangtown 100 will receive a $12,500 reward.
Friday's 30-lap, $5,000-to-win feature will pay appearance points only toward the USAC National Midget standings. Saturday's 100-lap, $8,000-to-win finale will pay feature points only toward the USAC National Midget season-long tally for all licensed series drivers and entrants.
The lone 100-lap USAC midget race of the year
Furthermore, the event is the one and only 100-lap event on the USAC National Midget calendar this season. Once a regular feature on the schedule in the early years of the series, these days, it's a rare event.
In fact, this year's Hangtown 100 will be the 398th 100-lap feature run in the series' history since their debut in 1956, and the 117th in the state of California.
Four drivers in this year's Hangtown 100 field have experienced the feat of winning 100-lap USAC Midget races: Kyle Larson, Justin Grant, Cannon McIntosh and Buddy Kofoid.
All but McIntosh's victory at Huset's Speedway came at Placerville. Larson captured the Hangtown 100 at Placerville in 2019 as did Grant in 2021 and Kofoid in 2022. McIntosh's 100-lap victory came in 2022 at South Dakota's Huset's Speedway. McIntosh has yet to win at Placerville, twice finishing second in 30-lap prelim features in 2021 and 2022.
The Details
Front gates open at 3pm each night at the Hangtown 100. Reserved and general admission ticket packages for the Hangtown 100, along with single night tickets, are available at www.hangtown100.com. Tickets will also be available at the gate on race day.
courtesy of Tim Holland and Donna Peter.