After being denied back in 2022 by the El Dorado County Planning Commission a Central El Dorado Hills project that would include redevelopment of the old El Dorado Hills Executive Golf Course and surrounding properties is back to life.
The topic returned to the agenda of the El Dorado County Board of Supervisors this week as they voted on extending a contract with consulting firm ICF Jones & Stokes for assistance with processing the project, updating its environmental review.
The previously denied Central El Dorado Hills project would redevelop the shuttered El Dorado Hills Golf Course and develop it and the nearby properties into two developments known as Pedregal and Serrano Westside.
The contract extension is estimated to come with a cost of $101,627. The expense will be paid for by Parker Development Co. which is behind the project. Even with a contract extension, the project would still need to be further reviewed by the county and will need to be up to date when it comes to environmental impacts.
"Even though the PC denied the project, the applicant's documents have to be adequate.If the Board decides to approve the project, they couldn't do so if the environmental documents aren't up to snuff," said Carla Hass of El Dorado County in a statement regarding the extension.
The Central El Dorado Hills Specific Plan is a proposed master-planned community of undeveloped infill properties in the center of the El Dorado Hills Community Region, an urban limit line established in the 2004 El Dorado County General Plan defining where urban and suburban land uses are to be developed.
Supported by available infrastructure, the comprehensively-designed Specific Plan accommodates the long-term growth needs of the County by establishing a concentrated, compact development pattern with regionally-balanced housing, employment, shopping and recreation uses.
Encompassing 341 acres, the proposed Specific Plan underscores a mix of residential, open space, and public service land uses found throughout the western slope of El Dorado County. If approved for development, build out of the proposed Specific Plan is expected to take as much as 20 years under Parker Development Company's joint venture entity, Serrano Associates, LLC.
The two different communities:
Pedregal (102 acres): Adjacent to Ridgeview Village, west of El Dorado Hills Boulevard, north of Wilson Boulevard and south of Gillette Drive. Proposed plan: 37 individually pad-graded lots on 45 acres (< 1 DU/ac), 200 multi-family units on 13 acres (14-24 DU/ac), and 39 acres (38%) of open space. Maximum dwelling units: 237. Private gated streets or public streets.
Serrano Westside (239 acres): North and south of Serrano Parkway, and east of El Dorado Hills Boulevard at the entrance to the Serrano Community. Proposed plan: 123 small lot single-family production homes on 23 acres (5-8 DU/ac), 310 medium-density units on 37 acres (8-14 DU/ac) and 330 high-density attached units on 16 acres (14-24 DU/ac). 130 acres (54%) of natural open space. Private gated streets.
As the project appears to be breathing new life again, it won't come without opposition once again. Some residents want the old golf course to remain untouched as an open space and not used for building homes upon. For complete details on the project and future updates, those interested can view them at www.parkerdev.com.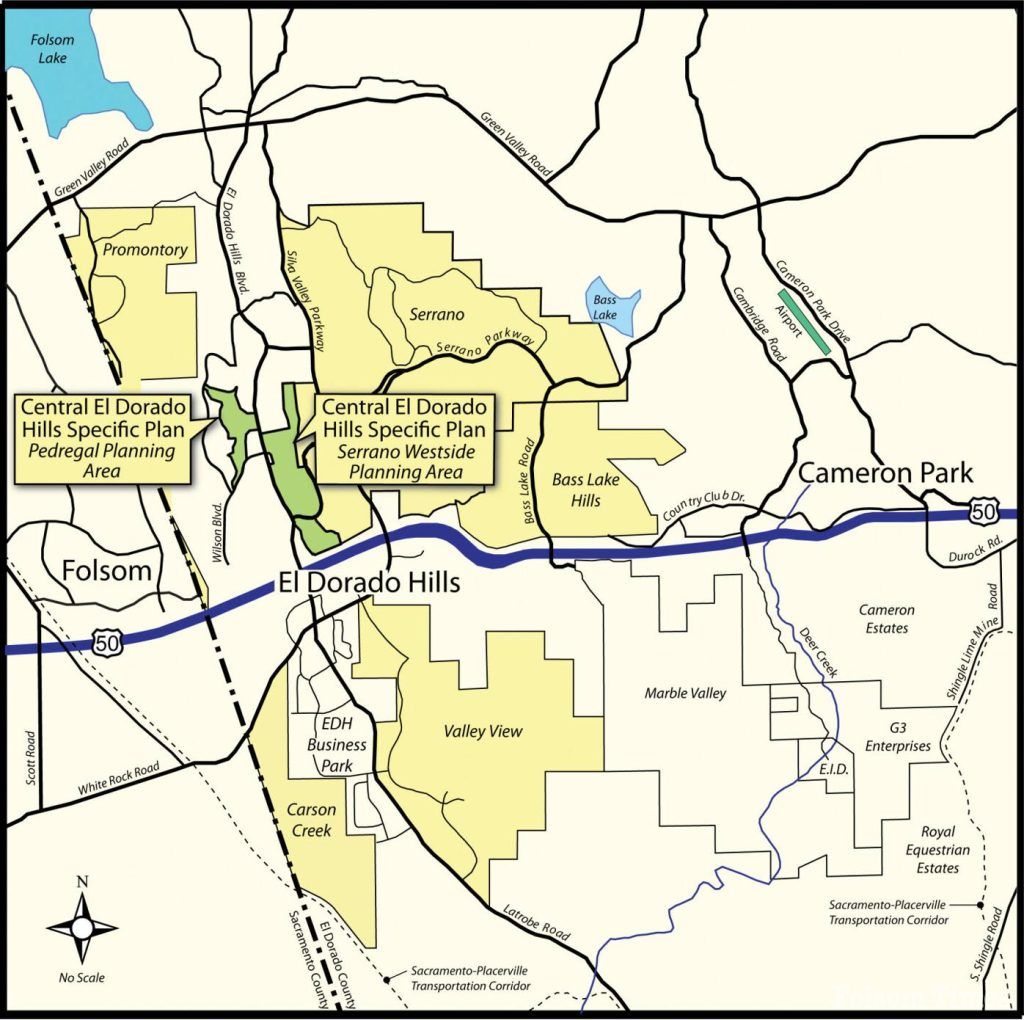 Graphic Courtesy of Parker Development Company.