Get ready for speed thrills in Historic Folsom as young racers converge on Sutter Street with the return of the annual All American Folsom Soap Derby. The event takes place both Saturday and Sunday.
The sport of soap box derby dates back through the decades across the nation. It's a grassroots sport that has taught many youngsters the laws of gravity, speed thrills. In its early years, it also introduced many to first aid products such as band aids and iodine as the combination of wood, wheels and a steep hill often came together to produce friendly competition among friends. Today, that's not so much the case as safety and technology have come full circle in this sport.
Through the years, those homemade "go-karts" transformed into a more refined speed machine known as soap box racers. Soap Box racing continues today with youngsters competing across the country, and Historic Folsom is now hosting it for the 5th time as it has become a local tradition.
The Folsom Soap Box Derby began in 2018 as the brainchild of local residents Karen Holmes, a member of the Folsom Historic District Association Board, and Mike McKernan. The idea of having a derby in Folsom was something Holmes had long pondered. Eventually, that pondering turned into reality and has since become a Folsom tradition.
"I was having a party at my house and I was speaking to my long-time friend, Mike, "says Homes. "I said something about a soap box derby and he said, 'That's funny, I used to race when I was a kid.'"
From there, the rest is history as the duo put their love of the sport to work and brought it to town with a phone call to the American Soap Box Derby Association in Akron, Ohio. From there, Folsom became connected to the nearest derby chapter in Silicon Valley who has embraced having Folsom on their traveling schedule each year thereafter.
This past year, Holmes and McKiernon traveled to Akron Ohio to the World Championships. While they were there, it became very obvious to them that the Folsom race is top of mind to many racers abroad that they spoke to at the event.
"This Folsom race is very much on the radar of racers abroad," said Holmes. "It was pretty amazing to see people's reaction and excitement when they realized we were from Folsom, they immediately knew about the Folsom race."
Prior to the sanctioned derby coming to town, the last time a soap box derby took place in Folsom was in the 1950s when competition took place on E. Natoma Street. Participants back then reportedly traveled down the hill toward the entry to Folsom Prison and City Hall. Additional races historically took place in Orangevale and near the grounds of Aerojet as well.
As it has in the past, this weekend' event will bring regular competitors to town and it will provide area youngsters with the opportunity to compete as well. A select number of soap box cars have been reserved for area competitors to take part in the event. This year, according to Holmes, the event welcomes a good about of travelers as well as locals that plan to compete.
Competitors for this event travel from all over, including as far away as Washington, Utah and Los Angeles as well as a large contingent of entries from the Bay Area. According to Holmes, they even have one young lady traveling all the way from New Hampshire to participate this weekend in Folsom.
"We have had an amazing turnout this year already," said Holmes. "The quality of the racers coming in for this race is pretty impressive. We have a bigger crowd from Utah and Nevada this year, we have locals that went to the championships, we have many that are new, many that are returning and that's great to see. "
Holmes said as of Tuesday, they have 32 racers signed up to compete, which she says is a great showing. It is routine on race day or just before that many sign up at the last minute as well.
"Bring them on, we'd love to have them, let's go racing," said Holmes.
This weekend will feature multiple divisions and races for each participant. The starting line will be just west of Wool Street in front of Dorothea's Shoppe, with the finish line in front of Central Valley Community Bank. The run out will end at Reading Street where volunteers will help the participants climb from their cars and load them onto trailers that transport them back to the top of the hill for adjustments and preparations for their next set of races during the day.
Various divisions include stock cars for ages 7 to 14; superstock cars for ages 9 to 18; and masters for ages 10 to 20. Divisions are determined by the child's size, as each car is built to specifications.
Driver check-ins begin at 8 a.m. Saturday morning, followed by a driver's meeting and the inspection and weigh-in of cars. Racing is scheduled to get underway at 10 a.m. and last up until the 4:00 hour on both days. For those looking to check out the action, the competitors love to have the community come out and cheer them on from the sidelines of Sutter Street.
Those who seek information about competing in this event can contact Holmes at 916-208-2253 or at karen@karensbakery.com. Full information on the sanctioning body, including rules and safety requirements can be found at www.soapboxderby.com/silicon-valley.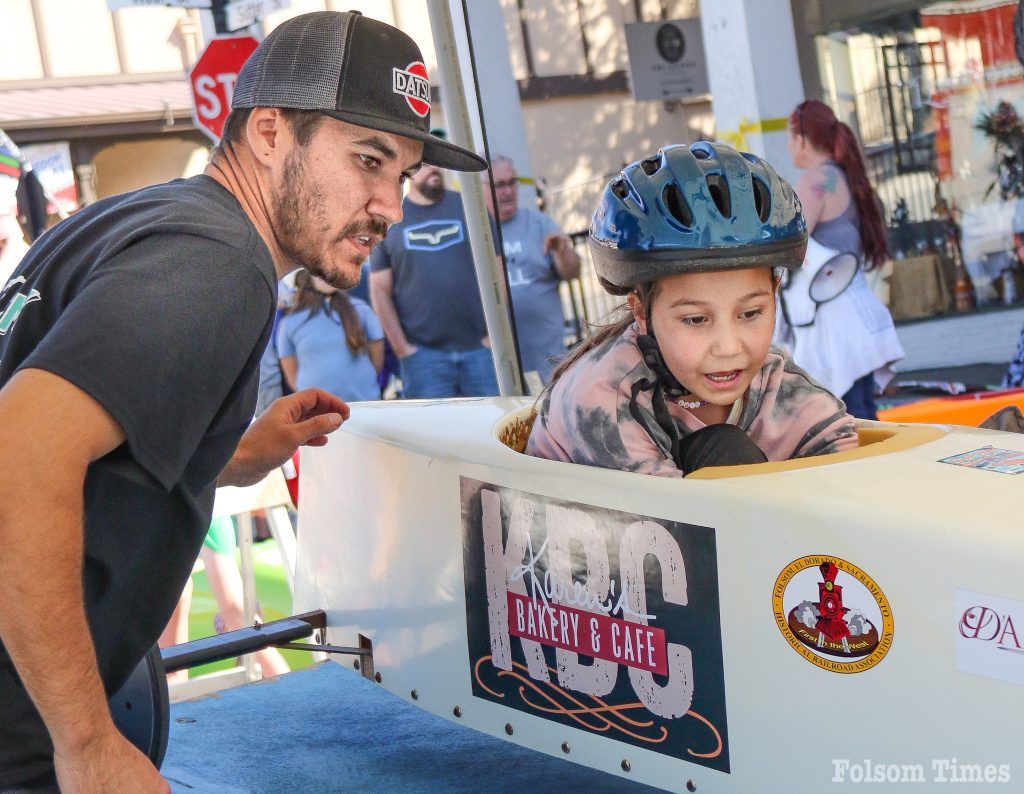 Photos courtesy of FHDA/All American Soap Box Derby