Take any crowded Target parking lot on any weekend in suburban America, and you're bound to see a statistically accurate sample and representation of the best-selling cars in both the country and local area. For example, my closest Target in El Dorado Hills will likely have a swath of Tesla Model 3s, for those who mistakenly think they bought a luxury car, some new trucks, and then Toyotas and Hondas. You can't really go anywhere these days in suburban landscapes without seeing a Civic, Accord, or Toyota's Camry and Corolla. These types of cars are so popular for lots of rational reasons, but it's the new release of Hondas, first the Civic and now the Accord, that make anyone who buys the usually rational Toyota equivalent look rather irrational. This new Accord Hybrid is so good as a whole and complete package, it's a statement deserving of one's signature on a sales contract.
Highs
I suppose prospective buyers will want to know about the fuel economy, and it's 40 MPG. What's that, does that seem kind of low? Compared to the window sticker, yes, but hybrids are most often overrated anyways. For an apples to apples, a Camry Hybrid I tested last year achieved 42 MPG, so close enough to not really make any meaningful difference more than a few bucks on your wallet over a year. 40 MPG overall is also an improvement of 2 over the previous generation Accord Hybrid I tested. Harken back a year further when I tested a Hyundai Sonata Hybrid, however, and that car still reigns supreme here when it posted 45 MPG over a week.
2023 Accords receive a complete redesign inside and out, and I think they knocked it out of the park. Instead of the overstyling that has been so common in all kinds of vehicles the past few years, the Accord consists of long, simple, and clean lines. Almost seeming plain at first, its understated elegance grew on me. It's strange that we live in times where to go 'plain' is to go bold, but this toned-down style is what unexpectedly exudes class and a luxury shape in an almost Bauhaus fashion – think Junghans and their Max Bill watch. Many would say how boring it is, while others will love the simplicity on display.
The interior takes design cues from the new Civic, appearing almost like a carbon copy at first, but in an enlarged and additionally spacious form. Following the simplicity of the exterior, it's an almost-industrial design that's quite thoughtful while never being plain. I for one love the long grille covering the air vents along the dash, while others might dislike that. Even on this entry Sport model, quality is pretty high, with an assortment of soft-tough materials and plastics that lack the sharp edges that plague many Toyotas. I also love the newly enlarged 12″ touchscreen that looks more at home on the dash than the smaller 9″ device in other Hondas. In the driver's seat, with the wheel fully extended, ergonomics are exceptional, with controls that wrap around you in short reach to give the best impression of a cockpit in this class. And the seats are rather comfortable, too, plus a huge back seat for passengers. When next to the Camry Hybrid SE I tested last year, at a similar retail, the new Honda completely trounces it for interior quality and design.
Where the Accord further stamps its statement is on the road, where it dishes out dynamic qualities normally reserved for a performance vehicle, but here in an everyday hybrid school-runner. Steering is tight and confident, if lacking in feel, but it's made up for with responses that are neither artificially quick nor lazy; it's just about right. Handling itself is surprisingly neutral and doesn't fall apart when you push it past your significant other's passenger-comfort-zone, with lots of commitment from the front end and a long resistance to eventual understeer when the all-season tires decide they have had enough. Even in quick transitions at higher speeds, where the Camry Hybrid becomes a roly-poly, Honda's Accord retains composure and intent. This could be a spectacular platform for an Accord Type R if Honda really wanted to get crazy. Oh, and ride quality is controlled and comfortable and cabin noise is tamed considerably well.
Performance also impresses for a hybrid powertrain, with 0-60 MPH taking just under 7 seconds. Meanwhile, both the Camry Hybrid and Hyundai Sonata Hybrid need 8 seconds, a definite win for team Honda, and several tenths quicker than the last Accord Hybrid I tested even. The power unit responds well to inputs from your right foot, and there are paddle shifters (if cheap ones) that can help control different levels of regenerative braking. Considering the handling and performance chops of the Accord Hybrid, it's direct hybrid rivals feel wayward and lazy and just incompetent. This new Accord Hybrid is a pretty swell package.
Lows
Demerits are few with the updated Accord. What does come as a serious bummer is that the punchy 2-liter turbo is no longer being offered, with this Hybrid model the most powerful choice for the moment. Other engine choices include their great 1.5-liter turbo, making 192 horsepower instead of the 204 on display here. The last Accord was also offered with a manual transmission, an item no longer being offered.
I didn't like the rear-view mirror, finding it to be too close to my head and required my eyes to adjust a bit due to the close proximity. Further, I feel it wasn't that crisp, with some distortion visible in the reflections as other cars moved about behind you. I also found, and this is going deep on the nitpicking, that the button to change the air vents, was not directly under the little digital illustration that shows the current choice. Instead, the front defrost is in that position; It would make sense to have the button that controls the illustration be directly under it, so if those two were switched around, well that would be a job well done.
Further, like most all new cars, there is a host of beeps and bongs that are so unnecessary, such as starting the car with your seatbelt not fastened yet, even while you're in park. Why has this become a trend? Toyota used to be the supreme leader of annoying chimes, but everyone else is catching up.
The smart choice is the best choice
As far as a complete package goes, there's little to dislike here with such a plethora of positives. The only car in its class that rivals the driving dynamics and character on the road is the Mazda 6, but that's a relatively thirsty bugger despite how I much do I like them still. Toyota's Camry is a full leg behind in style now and loses out on the interior quality, too, when comparing their basic entry levels – I'll be curious to see what the Accord Touring is like on the inside next. Combine that with amicable gas mileage that isn't class-leading but great in its own right, and you have a package that oozes rationality and almost even charm. I like the looks, I like the cabin, I like how it drives and performs, and the price is right at just $33,445 as equipped. Check mate?
2023 Honda Accord Hybrid Sport
Price as-tested: $33,445
Pros: Well-rounded package that does it all; Great interior and space
Cons: Fuel economy not quite as good as Camry or Sonata Hybrid; Potentially polarizing styling
For more automotive and motorsports coverage, visit www.TheRoadBeat.com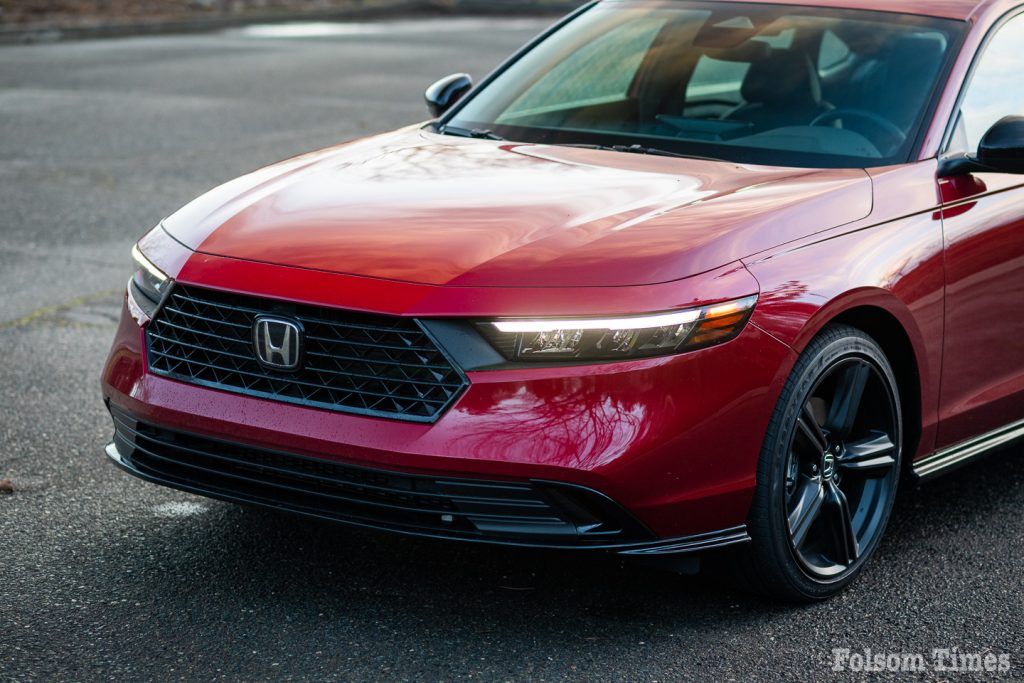 Photos by Mitchell Weitzman, The Road Beat