The Volvo XC60 is a superbly fast hybrid that might be the imperfect compromise many are comfortable with
I have a hit and miss relationship with a certain stylish Swedish carmaker. Volvos often offer understated, Bauhaus styling that looks modern without any effort, and lavishly luxurious interiors that can rival any other competing brand in their space. They're not without issue, though, with a majority of Volvos tested exhibiting wonky electronics that are unacceptably unreliable in 2023, such as doors not locking, center display lockups, maps freezing, and buzzing speakers. Luckily, this XC60 showed none of that, so I was able to enjoy in its full strength. What might be most eye-opening about this particular hybrid XC60 is just how freaking fast it is. The price might make your pupils pop, too, with this range-topping Recharge Ultimate model costing $74,690.
455 horsepower and 523 lbs-ft of torque are the headlining figures, and there's no way to deny just how impressive that is. Translating to a 4.3 second 0-60 MPH dash, there are no clues as to just how rapid this compact SUV is until you smash the go-pedal. Utilizing turbocharging for the four-cylinder main unit, this is further backed by an electric motor with a 18.8 kWh battery capacity. Yes, this is a plug-in hybrid, meaning a full charge will give you about 35 miles of electric range. Unlike some other plug-in hybrids, you can drive on the freeway even in full silence. You lose lots of performance, as the electric component makes only 143 horsepower on its own, but it's enough for normal commuting. Essentially, if your daily driving habits are on the short side, you could drive the Volvo as an electric car semi-permanently; I like plug-in hybrids for this added versatility as you can drive any distance without fear of having to charge.
When driven as a hybrid, the power unit is among the smoothest four-cylinders ever in a production car, forgoing most of the nastiness associated with the garbage disposals found in cheap economy cars. Throttle response impresses for a turbocharged engine thanks to that instant electric motor filling the gaps of any turbo lag, if not quite as instant as the previous iteration of this mill that combined a turbo with the immediacy of a supercharger. There are some rumblings at times as the combustion goes in and out of use, automatically switching between EV and hybrid mode that could use further polishing. Due to how quickly the XC60 can be when at full acceleration, passing is a total breeze when you need to get going and the system cooperates.
Once the battery pack does deplete, the XC60 behaves like a traditional hybrid, utilizing a combination of gasoline and electricity as it sees fit. During this time, over a variety of city and freeway driving, I averaged 26 MPG, which is a nice number considering just how fast and capable this power unit is, but it's also curiously 1 MPG less than the larger (and heavier) XC90 Recharge with the exact same propulsion system. I think I personally would have liked to have seen 30 MPG in this scenario from a more compact SUV like this.
Volvos do not disappoint in their interiors, and the XC60 continues this trend. While maybe you could expect or hope for some extra specialness from this Ultimate model costing over 70-large, it's a very nice and pleasant cabin experience with lots of wonderful Nappa leather draped all over. I've always admired the simplicity in Volvo's interiors with their understated elegance that is the furthest thing from barren. Nice metal work, too, especially those speaker grilles on the doors. The center display is sharp and crisp, and is mostly easy to use. However, some settings are harder to access with the the display needing sideways and vertical swipes like a smartphone, but it doesn't work as well in a car. At least the digital climate controls are a single click away at all times.
What I didn't like about the climate are the fan speed controls, where level 1 is too low, and then level 2 jumps up to what feels like a high setting. There were times I felt choosing level 5 didn't make a difference from level 2 – what did I say again about Volvos and their electronics…I don't think this is a problem, but just a quirk of how their fan speed operates. For those in colder climates, the seat warmers can nearly boil water, while the heated steering wheel can be felt through gloves even. It's also quiet at speed, and with enough space in the second row of seats and a plentiful enough cargo volume.
XC60s have always been pleasant vehicles to drive, with tidy handling characteristics and a good ride quality. The steering is completely devoid of feeling, but it's accurate and quick which gives decent confidence in your placement on the road and through corners. Grip isn't huge, but the balance is surprisingly good combined with an AWD system that allows you to smoothly apply power and hold your line through fast, sweeping turns. The only real downside is the chassis really hasn't seen any noticeable upgrades to match the courageous power output. A curb weight of nearly 5,000 pounds certainly doesn't lend a helping hand either. So while you can attack straights with sports car levels of acceleration, the same can't be said for corners, so just be wary of your speed as the XC60 is no match for more focused performance SUVs from some of the German brands with AMG or M badges when braking and turning is required. In routine, daily driving, the XC60 is very nice and easy car to drive.
Where things do get tricky is the price, because $74,690 is a lot for a compact SUV.  If you want a fast compact SUV, that price gets you in the door for a BMW X3 M, a real full-fat M car that will blow the doors off this Swede in any direction. Genesis has their GV70, which is a little bit smaller, but actually beats it on interior quality and style inside and out. And, they just came out with a full EV model with nearly 500 horsepower and over 200 miles of range for a similar price as this. So if you want to take the full-EV plunge, perhaps that's the more captivating option. Either way, one can rest assured here knowing you're getting a bona fide luxurious product that comes with electric driving ability and some stoplight drag-racing ability.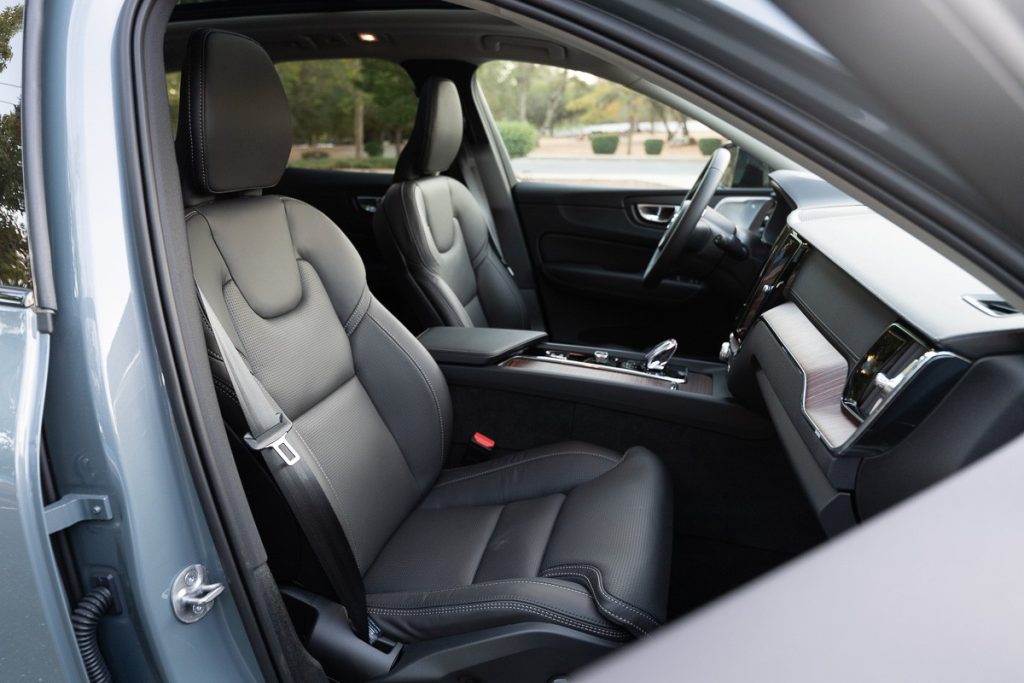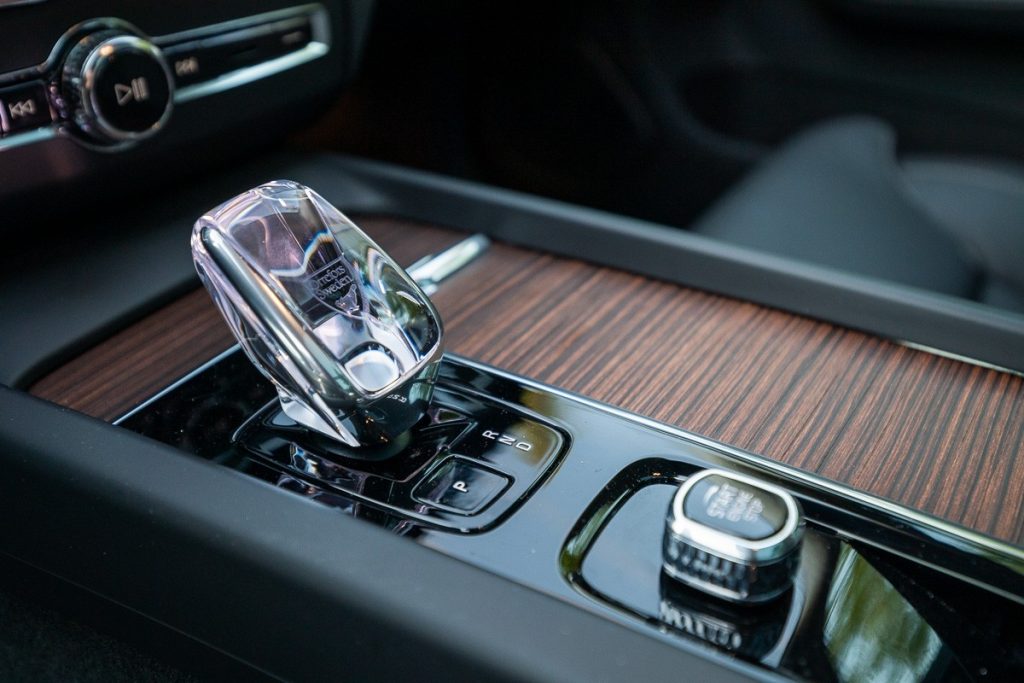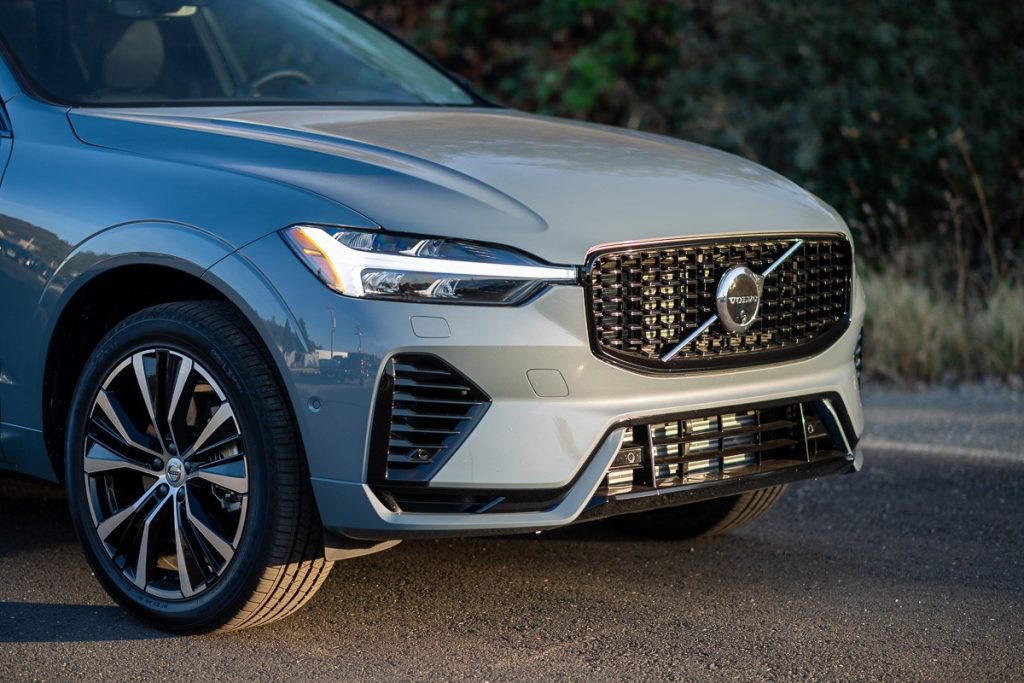 Photos by Mitchel Weitzman, The Road Beat
2023 Volvo XC60 Recharge AWD Ultimate review
As-tested price: $74,690
Pros: Fast and pretty efficient
Cons: Handling doesn't match the speed; Expensive
Length: 185″
Width: 79″
Height: 65″
Combined horsepower: 455
Combined torque: 523 lbs-ft
0-60 MPH: 4.3 seconds
Average MPG: 26
To view more automotive content, visit www.TheRoadBeat.com