When it comes to history, the community of Folsom has a whole lot of it. Most of us locally know the story of how the community and city came about, from Theodore Judah's vision that rose the community out of the ground during the booming Gold Rush, to the arrival of the railroad, Johnny Cash's famous visit and more. While the history books and local periodical have documented all of those significant moments in time, there is a there is a hoopla of unique "happenings" that took place throughout the decades as well.
If you look back through the years, you may be amazed of what was considered "headline news" back in the day. Folsom Times has partnered with the staff of Folsom History to bring our community a backwards glance of yesteryear here in the community thanks to the work of Shelby Sorensen and Jovia Low. These two locsal history buffs have spent time digging into the past to bring you This Time in History, an ongoing collection of some of the memorable moments that were the "talk of the town," back in the day. Here's a look at the first few weeks of July through the years.
July 1 -July 16, compiled by Shelby Sorensen and Jovia Low
July 1, 1905: This evening at Masonic Hall, a chapter of Eastern Star will be instituted.
July 3, 1866: At a meeting of Folsom Encampment, nine men were elected officers for the following term.
July 5, 1918: The committee in charge of the War Stamp campaign here pledges $30,445 toward World War I
July 7, 1866: The pumps connected with the Golden Rule Quartz claim situated in Placer County were put in operation the day before.
July 7, 1866: An almost daily inquiry is made: "why don't someone open an Ice Cream Saloon in this town?"
July 7, 1866: San Francisco capitalists are reportedly visiting Folsom with an "eye to its manufacturing advantages."
July 8, 1865: A drunk man falls off the trussell work of the Railroad bridge at the American river, with the drop being allegedly 45 feet high. The road he fell on was "hard, but the man was harder" –he escaped uninjured.
July 10, 1985: Local man reunited with war buddy after 42 years; Orangevale resident last saw his close friend being shot down over Germany during WWII, and thought he died. This notion turned out to be incorrect, and the pair had an emotional meeting.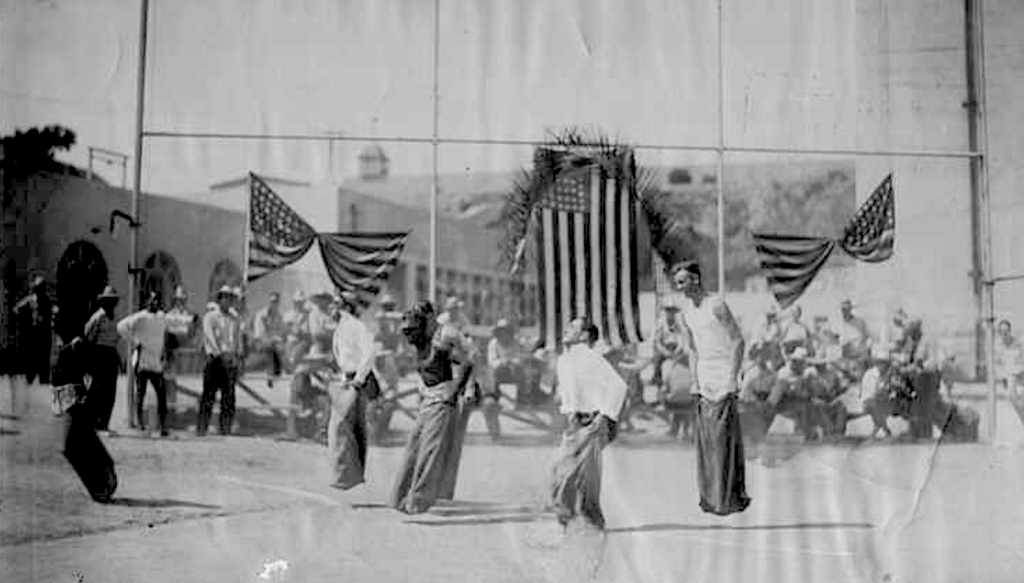 July 11, 1941: For the first time in Folsom history, every inmate of Folsom prison–including those in solitary confinement–attended the Fourth of July program held at the prison.
July 13, 1866: Social ball and ice cream festival held at Folsom School House
July 13, 1985: Folsom's historic powerhouse dedicated as a national Historic Landmark
July 19, 1865: A festival and ball is given at the Sacramento Valley Railroad Depot
July 13, 1917: Folsom women sign the Hoover Pledge for the conservation of food, joining 1.5 million women across the nation to reduce consumption of food to meet war effort demands.
July 13, 1917: Folsom residents called to "regulate their expenses" in order to be able to contribute to the expenses of World War I
July 13, 1951: The need for an ambulance in eastern Sacramento County was emphasized after a 31-year-old man fell from a runaway dump truck near Greenback Lane. It was more than one hour and fifteen minutes before an ambulance from Sacramento County hospital reached the scene. The man later died from injuries.
July 14, 1982: Folsom prison inmate Martin Cutrell was stabbed 5 times; according to the prison spokesperson, the attack appeared not to be racially motivated, despite ongoing racial tensions in the prison.
July 15, 1865: A "moonlight excursion" takes place on horseback from Folsom to Clarksville, enjoyed by several young locals.
July 15, 1921: Gerald Kipp celebrated his eleventh birthday by entertaining a few of his boy friends at his home. The boys had a jolly time playing games, and refreshments were served.
July 16, 1975: Many grass fires reported in Folsom, including a 107-acre fire on July 2 near White Rock Road and Scott Road
Folsom History operates three museums in Folsom's historic district – the Folsom History Museum, Pioneer Village, and the currently under construction Chinese Heritage Museum. Folsom History highlights Folsom's unique place in California history through exhibits, digital engagement, educational programming, and hands-on learning experiences. Folsom History Museum is open Thursday through Monday 11am to 4pm and Pioneer Village is open Thursday through Sunday 10am to 3pm. Visit www.folsomhistory.org to learn more.
TOP PHOTO: The Folsom Powerhouse is pictured circa 1900's. (Folsom History)