Napa's Dylan Zampa thrilled the fans at NASCAR Armed Forces Night in Roseville once again, winning a back-and-forth duel with John Moore of Granite Bay for round two of the JM Environmental Wild West Super Series on Saturday night at All American Speedway. The 100-lap feature capped a busy night at the one-third mile @the Grounds, where over 90 participants raced across seven divisions.

"It just takes hard work and dedication from the Zampa Motorsports crew. We bust our butts day in and day out. Hats off to everyone else in the field. The competition is still super stout. Feels even more better to have a really really good car," Zampa said.

"First thing I want to say is congrats to Dylan his team. They got that thing on rails period. I drove him as hard as I could drive him without getting dirty," Moore said. "I have arguably the best team in the world. We'll just keep working and try to beat the 92."

2022 Snowball Derby winner Derek Thorn piloted a second JM Environmental entry to quick-time in highline qualifying, before 2020 All American Speedway track champion Cole Moore took the controls from the back of the field for the feature.


John Moore drove around the outside of Aidan Daniels of Fort Bragg to lead lap one. Cole Moore soared to second by just the fifth lap of the contest.

Zampa had a slower start to the race, seizing sixth from 2021 Jr. Late Model track champion Kenna Mitchell of Loomis on lap 12. He then moved into fifth on lap 14. Zampa challenged Daniels for fourth. Daniels bounced off the front stretch wall for a hard crash on lap 26.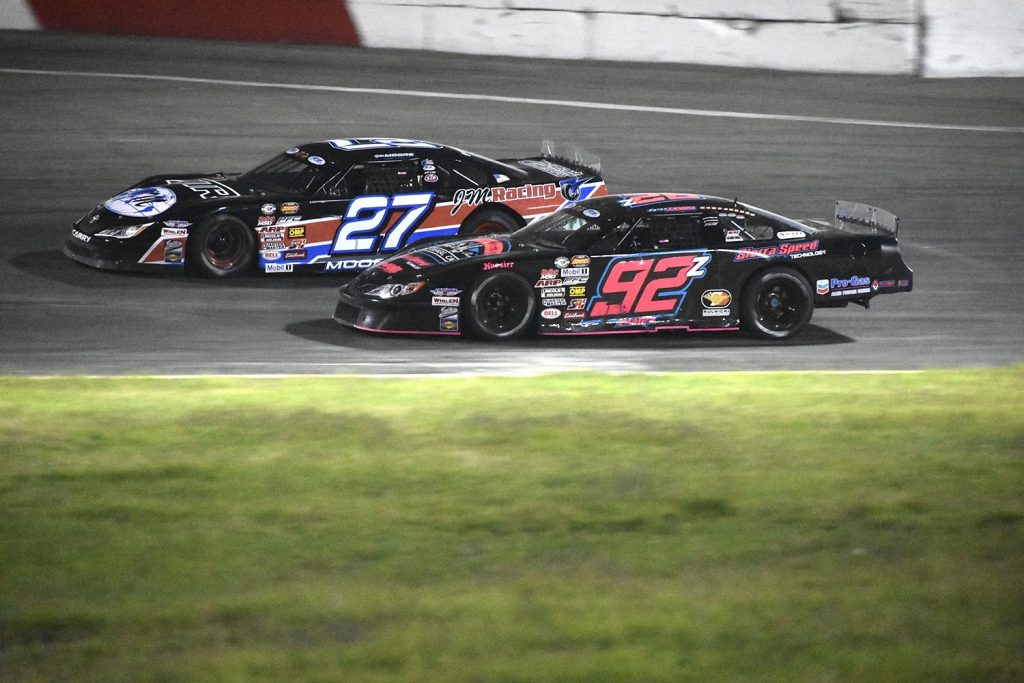 Jockeying on the restart saw Cole Moore retire to the pits after some contact. Zampa grabbed second from 2007 track champion Eric Schmidt of Roseville on lap 33 then went to work reeling in John Moore. A competition caution on lap 52 brought the field together for a shootout. John Moore picked the outside lane and Zampa drove inside of him. They raced-side-by-side with Zampa leading lap 53. Moore crossed him over on the backstretch and led lap 55. Zampa drove back to the inside but Moore held court on lap 57.

Zampa finally cleared Moore on lap 60. After the competition caution on lap 79, Zampa nosed ahead of Moore for the lead. Schmidt and Mitchell collided in turn four and then Schmidt spun on the backstretch. Loomis' Chris Scribner spun to avoid as well but all the drivers involved were able to continue.

Zampa left no doubters over the final run, driving to a 2.8 second victory. Roseville's Josh Whitfield overhauled Schmidt for third in a tremendous underdog performance. Schmidt settled for fourth with Mitchell rounding out the top-five.

A Northern California-record 42 INEX Legends Tour Series and NorCal Legends Series drivers invaded Roseville on Saturday night. The field was narrowed to 22 starters after two 15-lap B-Mains, won by Pete Pierce and 11-year-old Vito Cancilla of Martinez.

Jake Bollman was involved in an opening lap caution. On the restart, Aidan Daniels was tagged in turn four for another caution. Bollman managed to drive into the lead on the ensuing restart after a four-wide maneuver.

A debris caution on lap five gave Jeremy Doss of Upper Lake an opening. Doss drove around the outside of Bollman to lead lap seven. Daniels charged back through the pack but was collected in an incident with his sister Kylie and Kai Lovell. Henry Barton and Ethan Nascimento had contact for an additional caution as well.

Doss continued to keep Bollman at bay throughout each restart. The event ended on lap 32 when four cars crashed on the backstretch. Doss topped Bollman, 2022 Roseville winner Brendan Ruzbarsky, Nascimento, and Ukiah's Cole Brown.

Nick Lyons of Loomis won his second Velocity Solar Modified feature of the year in a 25-lap contest. Derrick Doering of Auburn led the first seven laps before Lyons took over. Tyler Wentworth clawed his way up to second but then retired from the race on lap 19. Lyons led Doering and Rickard at the finish of the event.

Whitfield not only finished third in the Super Series, but he also picked up two wins as well. In the NASCAR Berco Redwood Pro Late Models, Jason Aguirre of Atwater led the first 16 laps of the feature. Whitfield slid past him to lead lap 17. The race went down the wire, with contact between the leaders in turn four. Whitfield hung on for the narrow win followed by Aguirre, Fort Bragg's Lane Anderson, Auburn's Colton Nelson, and 2022 Jr. Late Model champion Trey Daniels of Fort Bragg.

Whitfield also triumphed again in the NAPA Riebes Auto Parts Super Stocks feature. Mario Davis led the opening lap before being passed by Tim Walters of Dixon. Phil Wilkins of Roseville looked inside for the lead but spun and his teammate Roy Smith spun as well in turn two. On the restart, Whitfield took control of the race. Walters spun battling with Smith for second. Whitfield led Smith, Antelope's Terry Thomas, Galt's Larry Thornhill, and Walters at the checkered flag.

The F4 feature had multiple mechanical failures and spins. Mario Novelli of Orangevale took the lead at the start but ran a lap time underneath the 16.5 second breakout rule and had to take a stop and go penalty. Roseville's Nathan Cleaver assumed the lead and never relinquished it. Matthew Fuhs of Roseville finished second followed by Vic Theberge of Citrus Heights, Matthew Cockrum of Roseville, and John Sproule of Rocklin.

Martinez' Vito Cancilla led flag to the flag for the Jr. Late Model triumph. Colton Nelson finished second followed by Trey Daniels and Roseville's Dayton Broyles.

All American Speedway continues May 20 with the Sonoma Raceway Night at the Races. Velocity Solar Modifieds, NAPA Riebes Auto Parts Super Stocks, F4s, NCMA Sprint Cars, and the NAPA Riebes Trailer Bash are scheduled.

All American Speedway wants to thank @the Grounds for their support along with partners such as Roseville Toyota, Berco Redwood, NAPA Riebes Auto Parts, JM Environmental, Velocity Solar, Sinister Diesel, AAMCO Transmission & Total Car Care of Auburn, CA, A-All Mini Storage, Auto Gator, Pape Machinery, Atlas Disposal, Kim White Realtor, All Street Sweeping, Roseville Moose Lodge, and Folsom Lake Asphalt for their strong support of All American Speedway. Without competitor support and local community partners, these events would not take place. All American Speedway mandates a sound regulation for all competitors as specified in the track rule book.

For more information, visit www.AllAmericanSpeedway.com or follow the speedway on social media!