The City of Folsom has fully completed its reconfiguration project of the Traders Lane Parking Lot. The project, located along Leidesdorff Street, between Riley Street and Wool Street in Historic Folsom, has been reconfigured in an effort to improve safety, vehicle circulation, aesthetics, and accessibility for community members and visitors, according to the City of Folsom.
The Trader's Lane parking lot has long been an essential public parking space in the heart of the Folsom Historic District. Over time, the lot endured wear and tear from regular use. The $272,269 contracted project did require the removal of 19 parking spaces to allow for proper vehicle spacing to meet modern day specifications and improve traffic flow within the lot.
The parking lot was recently resurfaced, add new accessible parking spaces were added to the lot and a dedicated area for delivery truck parking was created. The entrance and exit closest to Riley Street was removed and converted into parking spaces. With the completion of the project, traffic now enters and exits the lot from Wool Street. An upgraded dumpster enclosure was also added to service the businesses of Sutter Street. Designated motorcycle spaces were also configured into the design of the lot.
The improvement project included the installation of new concrete tree wells around new drought tolerant landscaping and irrigation. The project did require the removal of 12 existing mulberry trees, which the city sites were near the end of their expected lifespan and known for created a nuisance of droppings.
In their place, new drought-tolerant trees were planted. According to the city, the new trees will allow better streetlight distribution for increased safety while continuing to,"contribute to the vibrance of Historic Folsom as they grow," according to the project details. The removal of the trees has come with some disappointment by members of the community as it took place, however, city arborist Aimee Nunez explained at a public meeting prior to the project that their removal was carefully reviewed and required.
Accoring to Nunez, the trees were planted in the 1970's and lived well beyond their average lifespan. She explained prior to their removal that many of the trees suffered from decay and other issues that posed a safety hazard.
"The decision to remove these trees as part of this project was not rash. It was made with very careful consideration," said Nunez, who agreed they "seem" healthy. "They have lush canopies. However, almost all of them have structural defects."
Central Valley Engineering was contracted to perform the work on the project, completing it earlier than expected and met the city's budget as well.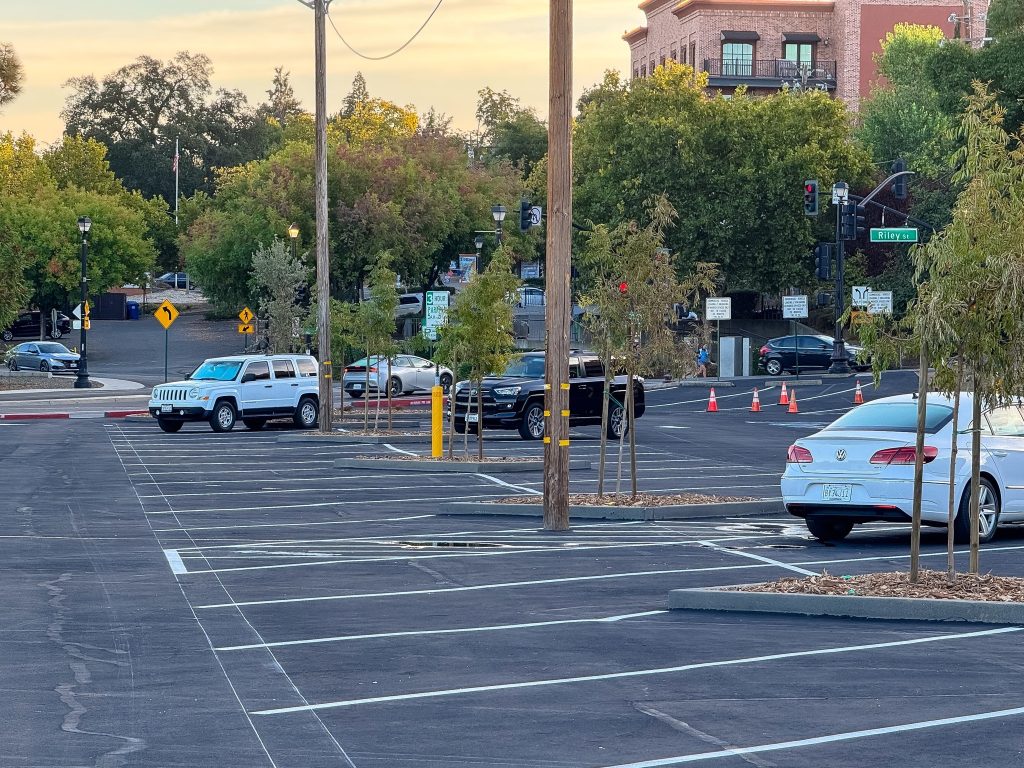 Drone image and photos: City of Folsom