Months of planning and hard work came to fruition this weekend as the Folsom High School Theatre Department opened the curtain to it annual fall production "Suessical the Musical." The local show will now continue through November 18th will three upcoming shows.
"Seussical the Musical" is a family-friendly stage production that combines the whimsical and imaginative worlds created by Dr. Seuss.
The story revolves around the character of Horton the Elephant, who finds himself in the middle of a colorful adventure when he discovers a tiny world called Whoville on a speck of dust.
As Horton strives to protect the Whos and their home from various challenges and adversaries, the musical features a lively cast of Dr. Seuss characters, including the Cat in the Hat, the Grinch, and many more.

Jojo, a young boy with a big imagination, plays a key role in uniting the disparate Seuss worlds. Jojo's journey of self-discovery and the musical's colorful blend of beloved characters make "Seussical" a joyful and entertaining exploration of the magic of Dr. Seuss's stories.
Through catchy songs and imaginative storytelling, "Seussical the Musical" conveys important themes of friendship, loyalty, and the power of imagination, making it an enchanting and heartwarming theatrical experience for audiences of all ages.
This week the show returns to the stage ar Folsom High School on November 16, 17 and 18 at 7:00 p.m. each night.
Adult tickets are $12, students K-13 are $10, children five and under are $5 and seniors 55 and up are $10. Tickets can be purchased online at: https://www.onthestage.tickets/show/folsom-high-school/6514a845c962777b47663b95/tickets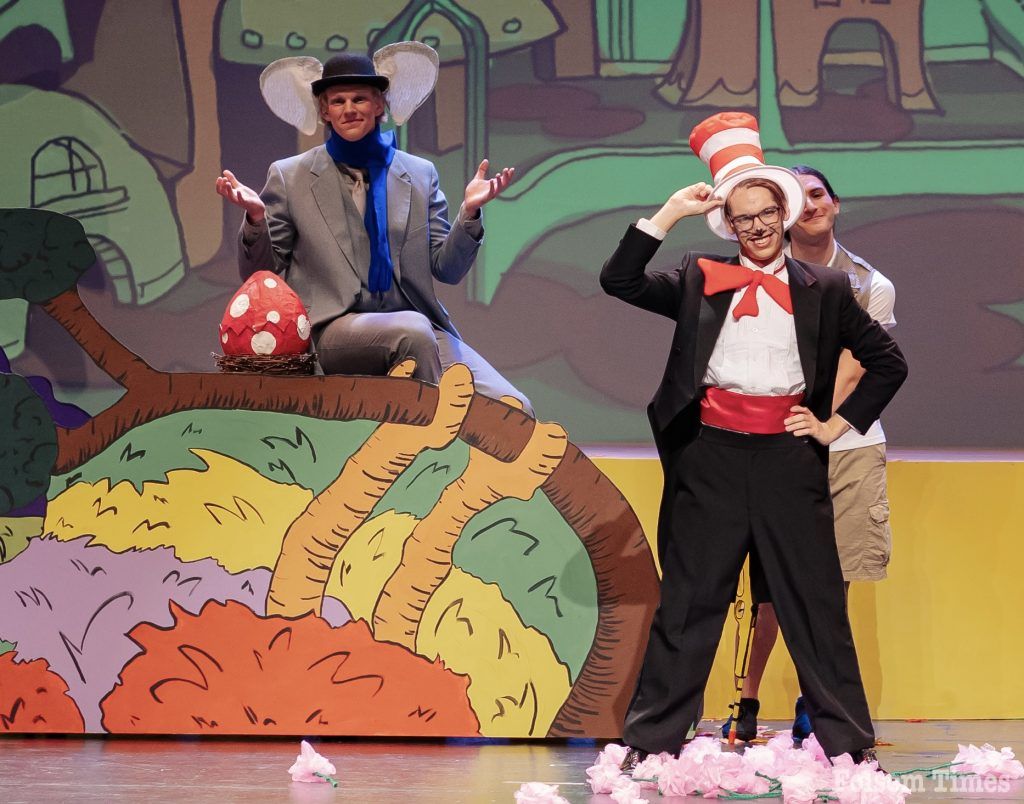 Photos by Hannah Nadine Photography
The Folsom High School Theatre Department has been producing high-quality theatrical productions in the Folsom community for over 25 years. FHS Theatre is proud to perform in the beautiful 690-seat Jill Solberg Theatre.
Currently, the FHS Theatre department boasts a comprehensive four-year acting program and a comprehensive four-year technical theatre program. Students can study both aspects or specialize! Alumni students have gone on to star in Broadway and regional productions, and many are working actors and technicians in theatres all over the world.
FHS Theatre produces two main-stage shows each year: a musical in the fall and a non-musical play in the spring. Additionally, the department competes annually in the Lenaea High School Theatre Festival and presents a spring showcase which features a series of one act plays directed by graduating seniors.
FHS Theatre is a recipient of the Folsom Arts and Cultural Commission's Arts Achievement Award and multiple Elly (regional) awards and nominations.
FHS Theatre is a proud member of the Sacramento Area Regional Theatre Alliance (SARTA) and is a member of the International Thespian Society.