When it came to the Friends of Folsom's 2023 annual turkey drive this year, one local company joined in to help with the efforts this year, making it part of a collective effort to help others across the nation at various events. Heritage Community Credit Union (HCCU), based in Folsom, organized the local "Best Day Ever," campaign along with Kasasa, Charlie Rocket's Dream Machine and community banks and credit unions across the nation.
The collection efforts resulted in more than 300,000 acts of kindness across the nation on November 3. The Friends of Folsom annual turkey fundraiser was among the many beneficiaries that were all assisted over one weekend.
During the Best Day Ever event, HCCU partnered with the non-profit Friends of Folsom to help support their annual fundraising Turkey Drive event with the common goal of helping others through kindness. In addition to sponsoring the Turkey Drive, HCCU employees were at the event handing out cards of encouragement and kindness to all the patrons.
The weekend culminated with a celebration at the Dream Factory hosted by Charlie Rocket and Gabe Krajicek, CEO of Kasasa as they celebrated the community giving that took place across the nation through the collaborative efforts of the different entities. Locally, the efforts helped the Friends of Folsom secure $20,000 for the Sacramento Food Bank and Family Services for holiday meals. The efforts brought the Friends of Folsom total turkey count to more than 70,000 turkeys since they started their annual event several years ago and have carried it on ever since. (See related story).
"Community financial institutions may not have $2 billion marketing budgets like the Wells Fargos and Chases of the world," Gabe Krajicek, CEO of Kasasa. "However, they show up on an individual level, every day for the people in their communities. This event demonstrated how they are a vital part of their local economies and that one-on-one personal interactions matter. Pair this human connection with world class Kasasa products and you have something mega banks can't touch. Together, we're on a mission to change where Americans banks…back in their communities."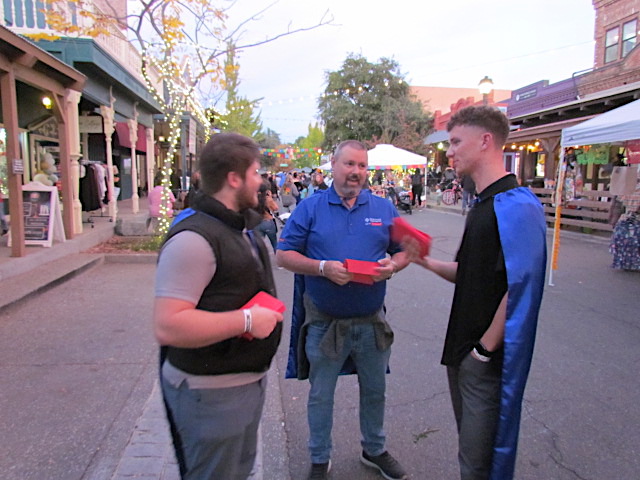 About Kasasa
Based in Austin, Texas, Kasasa® promotes community banks and credit unions and inspires people to bank locally so they can do more good. An award-winning fintech and marketing services company, Kasasa provides reward checking accounts people love, the first-ever loan with Take-Backs™, and ongoing expert consulting services to community financial institutions. Kasasa serves hundreds of community financial institutions nationwide, representing over 3 million consumer bank accounts across 3,400+ branches in all 50 states. Since 2003, Kasasa financial institutions have given back nearly $3 billion in rewards to Kasasa account holders. For more information, visit www.kasasa.com, Instagram, TikTok, Facebook, or LinkedIn.
About Charlie Rocket's Dream Machine Foundation
The founder, Charlie Rocket, is a former music manager who was diagnosed with a brain tumor at the height of his career. He made the choice to return to his childhood dream of being an athlete. He ended up losing 125 lbs, completing an ironman and reversing his brain tumor. Charlie now dedicates his life to his foundation, the Dream Machine, with the aim of becoming a new type of millionaire: one that makes a million dreams come true. For more information, visit www.dreammachineusa.org and www.instagram.com/dreammachineusa or www.instagram.com/charlie.