Ruby's Books invites the community to pitch in to give back to local teachers.
As a former teacher, Folsom resident Stacy Gould knows first-hand what a tough task the job entails today, which prompted her to give back to local educators in a special way.
The owner of Ruby's Books on Sutter Street in Historic Folsom, Gould is planning to host a special Educator Appreciation Party at her family-owned bookstore next month. While the event is still a few weeks out, now is the time that she hopes the community will come together to make the event very special.
"My family moved to Folsom back when my kids were in preschool. We chose Folsom specifically for the schools and we strongly believe they are a huge part of what makes Folsom a great community," said Gould. "The past few years have been really hard on our educators and we would love to show them our appreciation."
May 7-13 is Teacher's Appreciation Week, which Gould wants to kick off with a special party exclusive for educators at her store. The event will offer food catered by local company Crema and beverages to teachers that attend, 25% off everything in the story and most importantly, a number of raffle prizes that will be awarded among the teachers that attend.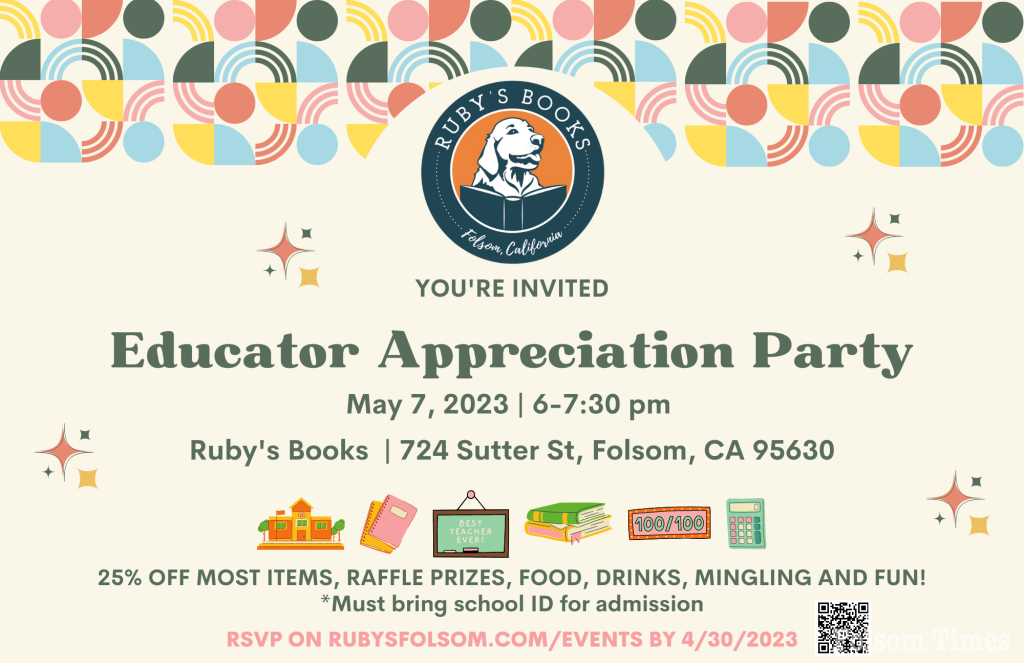 Since coming up with the idea, Gould has been reaching out to various businesses around town, many of which have donated to the cause. Many have already donated gift cards, merchandise, gift baskets and more in support of the event. So far, Gould says the response has been heartwarming and she hopes it will continue up until the event.
"The more businesses and members of our community that band together, the greater our show of love and appreciation can be," said Gould. "The raffle prizes and giveaways will include hundreds of books, gift certificates and gift baskets from local businesses."
Gould noted that it's not just businesses that can contribute to the cause, everyday folks that want to show appreciation for teachers are welcome to pitch in.
"
Yesterday, a customer dropped off a stack of Starbucks gift cards to include," said Gould.
Yesterday, a customer dropped off a stack of Starbucks gift cards to include .
The May 7 event will take place from 6-7:30 p.m. and is exclusively for educators who RSVP for the event. Information and registration information can be found by CLICKING THEIR PAGE HERE or visiting www.rubysfolsom.com.
Ruby's books is located at 724 Sutter Street in Historic Folsom.
OTHER BOOK NEWS: Read the Region Book Tour this weekend
In addition to accepting donations for the May 7 event, Ruby's is also a participating book store in the Sacramento region's
Read the Region Book Tour 2023. This weekend-long event April 28-30 celebrates National Independent Bookstore Day. Read the Region is quickly becoming a tradition where readers visit participating stores for special events, to shop for books and exclusive merchandise, and to collect prizes. It's a great way for locals in the Sacramento, Davis, Elk Grove, and Folsom area to discover and support indie bookstores.
At their first location, shoppers download the Read the Region Book Tour App or pick up a paper passport to track their progress throughout the weekend. With a minimum $10 purchase at each store, shoppers will receive unique giveaways like bookmarks, stickers, pins, and other prizes. And for every store they visit, shoppers receive an entry ticket for a chance to win one of three huge prize baskets filled with all kinds of great bookstore swag. The more stores customers visit, the better their chances of winning!
All the stores participating in this year's tour have full schedules of author signings, poetry readings, live music, sidewalk sales, kids' programming, pop-up vendors, and more. Readers of all kinds discover new and hard-to-find titles in their areas of interest, meet like-minded readers, nosh on snacks, and stock up on summer reads.
Bookstores participating in Read the Region Book Tour 2023:
Amatoria Fine Art Books (Midtown Sacramento), A Seat at the Table Books (Elk Grove), The Avid Reader (Davis), Capital Books (Downtown Sacramento), East Village Books (East Sacramento) Crawford's Books (Land Park, Sacramento), Ruby's Books (Folsom), Underground Books (Oak Park, Sacramento), and Wild Sisters Book Company (Tahoe Park, Sacramento)
For more information each store's offerings, event schedule, and store hours, visit Read the Region at: www.readtheregion.com.