Balance Bike Bash, Pedal Quest to bring riders of all ages together for day of fun, fitness for May is Bike Month event
When it comes to cycling, Folsom is a city that tops the list when it comes to amenities for all ages of cyclists. With May being officially known as Bike Month across the Sacramento Region, Folsom is going big this weekend when it comes to activities for two wheeled enthusiasts.
Prior to the restrictions set forth by the pandemic in 2020 and the years that followed to rebuild many recreational events and programs, Bike Month is back in the headlines for the city that boast more that 50 Class 1 bike and pedestrian trails as city leaders and a local organization have come together to present Folsom Pedal Quest and the Balance Bike Bash this Saturday.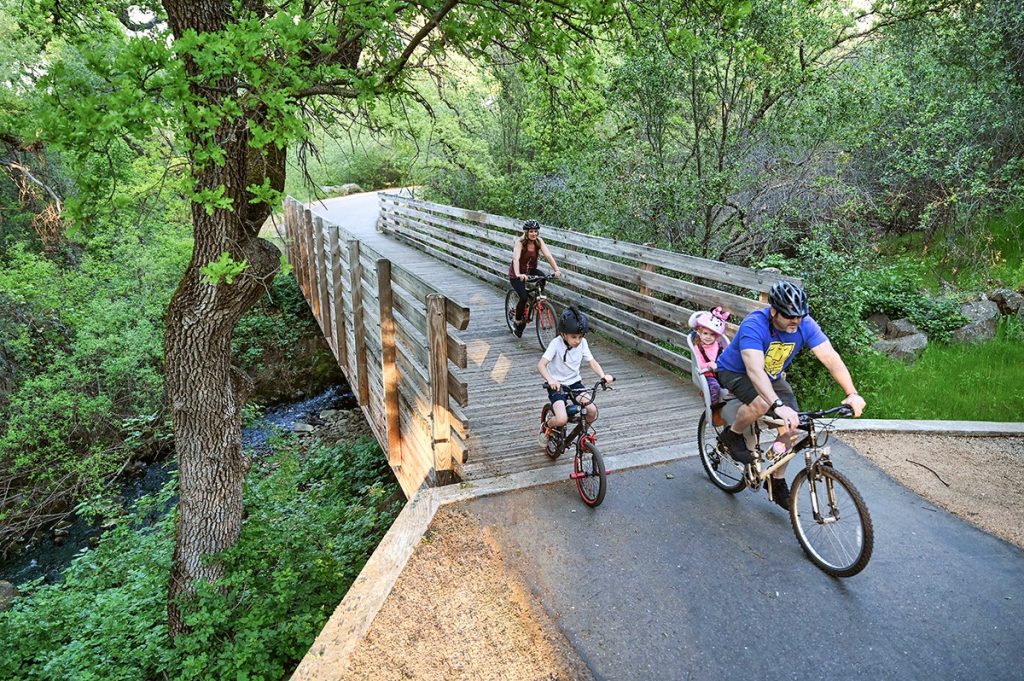 "Folsom Pedal Quest and the Balance Bike Bash bring the community together to discover cycling opportunities in Folsom and showcase the connectivity of the city's paved bike paths," said Jenn Fuss of Clipped in for Life, the local organization behind Saturday's grand kick off to bike month in the city.
The event will bring friends and families together on Saturday to explore the city on two wheels. It doesn't matter if you are an experienced rider or a toddler that is riding using that "push power," we all started with, there is something for everyone coming to town and it will all start and finish in the heart of the community, the Historic Folsom District.
Those choosing to participate, will choose their "quest" from self-guided routes that showcase the connectivity of Folsom's paved bike paths. All of the routes start and finish in Historic Folsom, with distances ranging from 1.5 to 30 miles for all ages and abilities to enjoy.
Riders must check-in on Sutter Street to pick up a name plate and map between 9:00-11am. to pick up your bike plate and route guide. Once you've checked in, you can start your self-guided Quest. Aid stations will be open from 9:00am to 1:00pm handing out refreshments and Folsom Pedal Quest stickers.
Participation is free and limited to 500 people, so its suggested you register online to reserve your spot in this great community event.
From check in, particpants can pick a route and hit the trail to do one of them or as many as they choose.
The designated routes will be as follows:
1.Rainbow Bridge Loop (1.5 miles, 15-20 minutes)
2.Parkshore Loop (3.5 miles, 30-45 minutes)
3.River District Loop (5 miles, 45-60 minutes)
4.Johnny Cash Loop (6.5 miles, 45-75 minutes)
5.Lake Natoma Loop (11.5 miles, 60-90 minutes)
6.Central Folsom Loop (13 miles, 60-90 minutes)
7.Empire Ranch Loop (18 miles, 90-120 minutes)
8.Folsom Big Loop (30 miles, 120+ minutes)
According to organizers, all loops utilize paved bike trails with minimal road riding and some road crossings. Please obey all traffic laws and cross roads safely and carefully.
In addition to the planned trail rides Saturday, there's also something special for those really little riders that want to get in on the action. It's known as the Balance Bike Bash, which returns to Sutter Street after already becoming a hit here last year.
Bring your little ones age 5 and under out for the Balance Bike Bash during Folsom Pedal Quest in Historic Folsom! Kids race on balance bikes around a course with fun features including a bubble wrap "rock garden," mini rumble strips, and a pool noodle wall for kids to ride through.
"Learning to ride a bike is a childhood milestone and creates opportunities for adventure," explained Fuss. "Achievement and connection that last a lifetime. Whether it's riding to school, meeting friends at the playground, or exploring local trails, bikes help give kids the independence and confidence they'll need for success throughout their lives."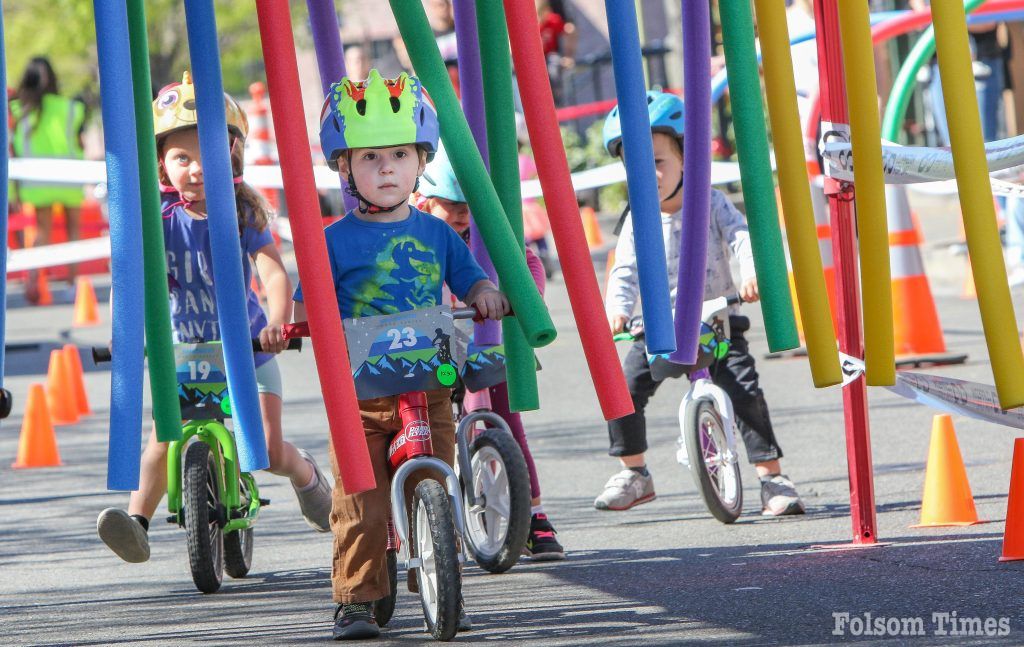 The Balance Bike Bash will be held on the 700 Block of Sutter Street between Riley and Wool Streets (closed to traffic) with race starts every 30 minutes from 9:30am-12pm. Kids will do as many laps of the course as they can in 15 minutes. In between races, kids can ride the course as much as they want.
"The Balance Bike Bash is one of the cutest events I've ever seen," said Folsom Historic District Executive Director Judy Collinsworth. "Some kids are super-fast, clearly experts on the balance bike, while others have mom or dad alongside them coaching them to finish. Either way, it's a great spectator sport. The course that Clipped in For Life creates for the Balance Bike Bash is so creative and fun. This event is such a perfect kick off for Bike Month."
Each race start is limited to 25 kids. It is suggested that particpants register online to reserve their child's spot for free. Visit the Balance Bike Bash page for more information HERE.
Clipped In for Life's mission is to create opportunities for people of all ages and abilities to find achievement, adventure, and connection through cycling and other athletic activities – thus, helping improve lives and bring communities together.
"From our perspective, cycling is a lifestyle. Its impact reaches beyond the race course and into every day life with physical and mental health benefits, quality time with loved ones, transportation, and more," is part of their mission statement. "So our purpose at Clipped In for Life is simple: to spread the bike love to anyone and everyone with hopes of improving lives." Learn more about Saturday's event and the organization at www.clippedinforlife.org.
MORE BIKE MONTH FUN…
Join the Friends of the Folsom Parkways team and log the miles you ride throughout the month of May.Take part in the free May 6 PedalQuest events. Little ones ages 5 years and under can register for the Balance Bike Bash obstacle course in Historic Folsom. Riders of all ages can choose their "quest" from routes ranging from 1.5 to 30 miles that showcase the city's amazing trail system. Learn more and register.Take the "End to End" challenge: ride every mile of Folsom's trail network (north of HWY 50) in May. Print the trails map in black and white and highlight the segments you ride and note the date. Send your completed map no later than June 2 to earn the new Friends of the Folsom Parkways decal. This challenge is a great way to learn about and explore some of the lesser-known gems along the city's trail system.Enter the photo contest; pro or amateur photographers of all ages can submit photos highlighting the beauty of Folsom's trails. Photos can be entered in two themed categories, and winners will be selected each week of May; grand prizes will be awarded at the end of the contest. Find more details on the Friends of the Folsom Parkways website.
May is a great time to explore and enjoy some of Folsom's 50+ miles of paved recreational trails. Safety and courtesy make for a positive experience for all trail users. Cyclists should keep to the right side of the trail, maintain a safe speed, and pass on the left side of oncoming pedestrians. Find updated trail maps and additional tips for trail safety and etiquette on the City of Folsom website